"Thousands of candles can be lit from a single candle,
and the life of the candle will not be shortened.
Happiness never decreases by being shared"
The Buddha
When I walked into Linda Fitzgera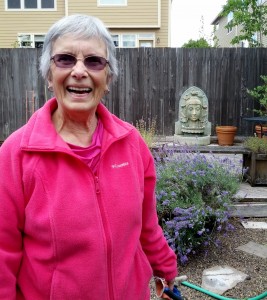 ld's home, the words "I'm Happy" reached out from where they sat perched on the mantel. As she showed me around I kept looking to these words, wondering about the block of wood.
I met this dynamic 73 year old water-color artist while waiting for the MAX–the light rail here in Portland. I had struggled to buy my ticket, the machine refusing my credit card. She whipped out her smart phone.
"I like to buy mine online. It's so much simpler," she smiled. "You never know when the machine might not cooperate."
We soon realized we were both headed downtown, both going to City Hall to testify as Airbnb hosts. The city is in the midst of creating new laws to guide the sharing economy. I told her about our 1907 Four-Square and the studio we rent out to travelers, and she told me about the room with a bath in her North Portland home.
"It might sound funny, but this is the best way I've ever heard of to grieve," she said. "It really is. It gave me other people to serve and talk to when I lost my husband."
Vince Fitzgerald died last September, leaving a void in Linda's life and a lot of empty space in her home. She heard about Airbnb and realized it would be a good way to use her space and earn some income.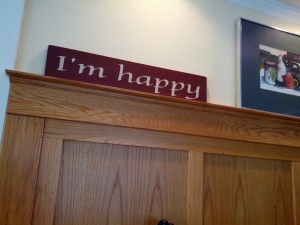 "I'm happy," were some of his last words, she told me. Her story made me smile as my eyes stung. She described his last days, the family standing around his bed, and him assuring them, "I'm happy."
Her husband had lived more than 18 year with Parkinson's–diagnosed only a year after their marriage. The final three weren't easy, but he kept his humor–and his appreciation. Earlier in his life, Vince Fitzgerald had been a Franciscan priest, had then married and fathered children, and after being windowed had found Linda. (They had met many years previous, but now they met again!)
"At first I thought he was too boring, and he thought I was too wild," Linda laughs, her eyes glistening as they look to the framed photo she holds : A man is looking upward, mouth in a wide-open smile: pure delight! In the background, his booming baritone voice fills the living room of Linda's house with Spanish music. She has a CD which allows her to hear his voice still.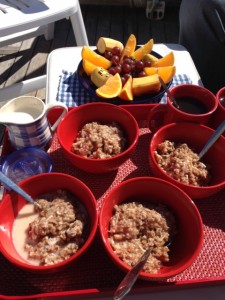 She says the Airbnb gig serves her well though she's decided to welcome folk for a minimum stay of two nights from here on out. It's a lot of work to prepare the space, and she steam-cleans after each guest.
"I love learning about where people come from and where they've traveled." She lived for many years in Germany and loves to travel still. She not only shares her living-space with guests, but she provides a vegetarian breakfast and is always looking for new ideas for how to nourish them in new ways.
"I've already hosted people from every continent," she told me the morning we met.
Many of her guest arrive as couples, but others drop in for for up to a week (her limit)–as singles. So far, no problems (which is true for us, also). Most people are super-considerate and appreciate the hospitality of being welcomed into a "local's" home.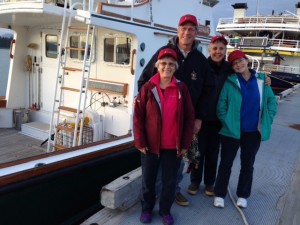 "But I'm not going to talk about that at the hearing," she said after sharing her story of recent loss.
"I hope you do!" I said, trying not to sound overly enthusiastic yet feeling moved by her story of grieving and her choice to share her home. So often, we don't talk about our grieving or share with others how we manage through our loss.
It was a gift–her sharing with me–and I knew it would be powerful if she shared at the public hearing (which it was!)
Linda tells me this is also a time to say "yes"–in her life. Pictures she shared from a recent trip to Glacier Bay in Alaska are breathtaking. Her sister had been asking her to go on this journey for years, and now she could: On a 48-foot Maine Lobster boat, they spent four days cruising around the bay. They spotted mountain goats on the craggly land, saw birds in flight and fish jumping.
Linda also took photos of the meals served–my kind of girl!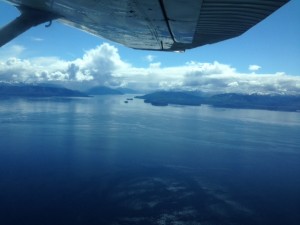 She brought home a new idea for a breakfast: Bulgur with coconut, honey, nuts and dried fruit added. "Really delicious. You can call it inspiration from Kip Jones."
Meeting this savvy Smart-phone woman on that morning in early-June was a fun surprise. Portland will soon become the first city to create a legal path for people to rent out a room or an apartment in their private house–like was so often done in times gone by. I can only imagine all of the people–friends, family and passersby–who have spent a night, week or years in our 1907 Four-square.
Airbnb launched a new branding this week: "Belong Anywhere!"
This young and hip company is trying to lead the way in bringing people together, creating community, and supporting individuals who are sometimes traveling and happy for a place to feel at home and sometimes paying their bills from home.
It's unlikely I would have met Linda had Airbnb not invited us to a lunch downtown before the city hearing. Since then they have invited Ludger and I to a dinner and earlier in the week I showed up for a Live-steam in their downtown office–and was treated to a tasty brunch. Today I'll drive across town to meet another host–and she is hosting me to lunch. Then we'll go for an urban walk in southeast Portland.
May all be well, travel safely–and enjoy your meals!
Some Links: