"If the only prayer you ever said in your whole life was 'Thank you,'
that would suffice."
-Meister Eckhart (1260-1328)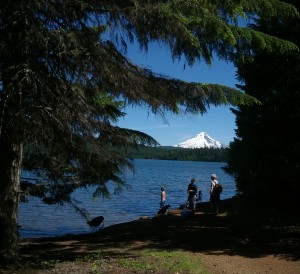 One way to love the urban life yet stay refreshed is to get into the woods, especially the nearby Cascades. We hadn't done it in way too long. And though we're self-employed and rather flexible –you would think–we sketched in a couple of days at the end of June to "get away".
Go we did! We packed the car, arranged for Cam, our neighbor, to visit our cat and water plants in the greenhouse. We left on Sunday by noon and wove our way out of Portland–which took almost an hour! Our timing must've been perfect because once we found Timothy Lake and began our campsite-search, the pickings seemed beyond good luck.
Site #31 at Gone Creek Campground was a walk-in–and on a tip of the lake: Hemlock and Vine Maple provided natural border on either side, and a drive-in loop gave us some distance from the road so we hardly noticed passersby.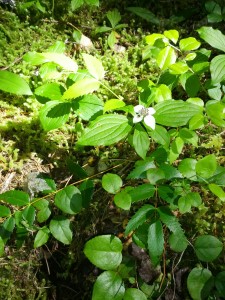 The camp hosts, in their early 60s, live most of their year in Arizona. Before settling there, they had lived in Bend. This year they decided to get a job back in Oregon for the summer–and in January found this camp-host gig, working for PGE (Portland General Electric): They provide recreation on this dammed reservoir.
"PGE's great to work for," they told us. Besides a free site with water and sewage, hosts get two days off each week and an hourly wage. They also assured us that 99% of the people who camp around the lake are terrific. "It's only the 1% who won't quiet down at night or leave a site a big mess."
Since we had only one full day on the lake, we knew what we'd do: Hike the 13-mile trail around Timothy. Not even a minute along our way, we saw Mt. Hood clear in the distance: Clouds had hidden it the day before, so the site of Oregon's tallest peak was awesome. As we gawked, a little boy held his catch for us to admire–a crayfish with red snappers. He could hardly contain his enthusiasm nor would he stop long enough to give us details before bouncing back into the lake.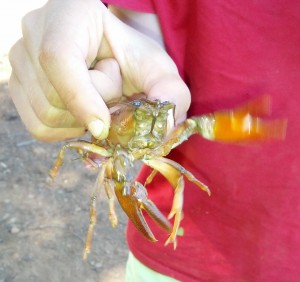 As we continued our walk which joined to a portion of the PCT (Pacific Crest Trail) the forest changed. In some areas the Hemlock, Grand Fir and occasional pine stood huge and majestic, healthy and spaced out. Mossy ground-cover and a rain-forest feel would then meet meadow, and then overcrowded acres with twig-trees–and a hanging-lichen taking over their branches. (I need to consult my biologist-friends.)
It seemed to be some kind of disease killing many trees, and it made me think of how people can get sick when they live too close together without proper sanitation–from cholera, bubonic plague, stuff like that. At first I thought the problem might be a disease of Douglass Fir because I remember several years back a plight attacking this tree. But the hanging lichen covered Hemlock and pine, too.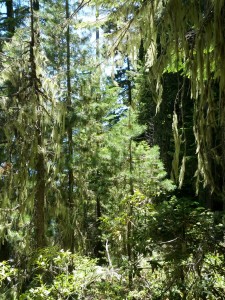 Back in camp we met our neighbors, a family from Lake Oswego. Like us, they were out on the lake for only a couple of days. Like us, they were super-lucky: The people on site #30 had left a day or two early. Their boys could wander down to the little beach and throw their line into the water. The older–the Dr. Doolittle we'd already met that morning–had a way with wild things, his father told us: He used to hold hummingbirds in his hand.
"That's a federal offense, so we had to stop him from doing that anymore," the dad grinned.
"My dad says ducks have magical powers," the younger boy reported to a man hanging out near the boat launch.
"I'm sure your father is right about that," he said with a smile.
Several campsites further down the shore hosted groups of friends: a bunch of college women hooted and hollered into the night, leaving dozens of Barge root beer cans in the next day's recycle bin. Next to their site three cars brought couples who laughed into the evening. But around quiet time, 10pm, the campground–and even the children's voices from across the lake–tapered off.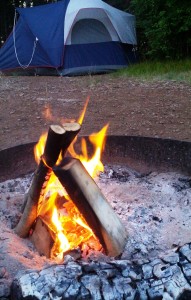 Leaving the coals of the fire to flicker out, on our final night we watched as the crescent moon shimmered on Timothy Lake and slowly set, leaving us under starlight as we unzipped the tent and cuddled in our bags.
Though it requires a two hour car ride each way, nothing else soothes quite like days in the forest.
Ludger says there's no wilderness left where he comes from in northern Germany. "We never had campfires, and you could hear the people talking in the tents beside you," he recalls from childhood camping trips with his 5-kid family.
We don't always realize how fortunate we are to live close to the mountains, oceans, rivers–and to be able to lose ourselves in nature, in "the peace of wild things."
The poem's been around for decades, but I always love it: Wendell Berry is a man who realized early on he needed to live with the land. He bowed out of an academic life to farm. If you get the chance, pick up more of his poetry, fiction or non-fiction. Years ago a friend insisted I read The Unsettling of America: In this book he says that people need to have meaningful work or they can easily become depressed. He argues that we've created a society where too many people don't have the opportunity to do work that matters, and this lack of work that feels purposeful is the cause of many problems, he says.
Humans need connection to other life, and we need to feel our place in it all. Going into the forest or jumping into a lake is a way to open and recharge.
May you enjoy this poem, be well–and Happy 4th!
The Peace of Wild Things
BY WENDELL BERRY
When despair for the world grows in me
and I wake in the night at the least sound
in fear of what my life and my children's lives may be,
I go and lie down where the wood drake
rests in his beauty on the water, and the great heron feeds.
I come into the peace of wild things
who do not tax their lives with forethought
of grief. I come into the presence of still water.
And I feel above me the day-blind stars
waiting with their light. For a time
I rest in the grace of the world, and am free.
Wendell Berry, "The Peace of Wild Things" from The Selected Poems of Wendell Berry. Copyright © 1998. Published and reprinted by arrangement with Counterpoint Press.
Source: Collected Poems 1957-1982 (Counterpoint Press, 1985)