"I cook with wine. Sometimes I even add it to the food."
-W.C. Fields
For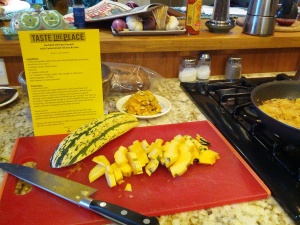 this week, why not get down to basics? Food and the harvest can keep us warm.

Friends have been swapping recipes all over the internet lately, but here's one I picked up at the King Farmer's Market this icy morning.
To give shoppers a sense of what's possible, the market managers, Anna and Amber, have arranged for someone to demo a recipe each week. They offer a sampling of food and highlight a piece of the bounty being sold by local farmers.
They often choose a vegetable people might not know how to cook–like delicata squash: It's wonderful! No peeling necessary! Slice, seed, saute–or toss into a saag or a stew. Options are endless.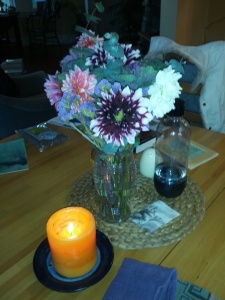 The farmers and vendor and people like Amber and Anna who make the market happen are inspiring. They help to build community–while providing fresh food. And this extra effort–the cooking onsite–gives all of us some new way to find delight.
The cook looked happy as she chopped the delicata and sauteed it fresh. She then mixed in the already caramelized onions–and sprinkled some fresh cheese on top. (Since no one sold feta today, she bought what a vendor had on hand.)
We had today's demo-recipe for dinner tonight–along with beet greens harvested from the garden yesterday–and some leftover brown rice.
What's inspiring? Anna and Amber run the market, and a lot of others work alongside and behind the scenes. It's dedication. It's community-building. Thanks for being there!
Click the recipe image to expand.
"My doctor told me I had to stop throwing intimate dinners for four unless there are three other people."
-Orson Welles