"Ethical behavior is doing the right thing
when no one else is watching
– even when doing the wrong thing is legal."
Aldo Leopold, 1887-1948
Ecologist & author of A Sand County Almanac
"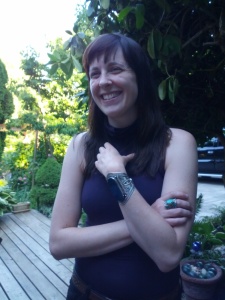 My interest in the outdoors started when I was horseback riding as a child," says Brooke Hall, now a Naturalist teaching children survival skills, ethnobotany, bird language, primitive crafts and wildlife tracking.
"Some of my favorite memories of riding are through fields outside of San Antonio–finding a swarm of bees in a tree, or encountering a rattle snake on a road. In New Hampshire, I remember being bundled up on chilly fall days, following trails amongst the colorful fall trees."
Brooke says she did lots of exploring and loved being outside with the horses and all of the hard physical work that went along with the sport. "I loved being covered in hay, dirt, horse hair, and sweat."
Though her parents aren't outdoorsy types, they supported their only child to do what she loved.
Riding taught her how to jump into things and not be afraid to get dirty.
"I probably wouldn't have had the courage to cover myself in mud and crawl around on the forest floor practicing native scout skills this year if I hadn't had those early experiences."
Brooke spent nine months as a student in the Wilderness Awareness School's Anake Outdoor School–about 30 miles northeast of Seattle. She learned to track wolves, build fire from friction and fend for herself in the wilds when left for days–only the clothes on her back and her classmates along for the challenge.
The cohort of twenty-some people worked together because the Anake school encourages community. The program emphasizes the importance of their students learning not only about the natural world but about themselves. They are taught to mentor each other and work together–each person bringing his or her own skills and passion. During a  four-day stay in the wilds, they survived eating cattails, capturing water in natural containers and building shelter from gifts of the forest which, unfortunately, included garbage they found!
They constructed water catchment using primitive methods and their own rain gear. "We heated water in vessels once we had a fire and boiled it. This water came from a nearby freshwater source, and we also gathered particular mosses and squeezed water from it–surprisingly effective, if not hard work!"
Brooke is sworn to secrecy regarding the particulars of survival over those four days because Anake wants future students to learn for themselves.
"The hardest part for me was how long the nights were when I was cold and how hungry I got.  Also: the HOARDS of mosquitoes this year were miserable," Brooke writes in an email.
Before this wilderness training, she taught elementary school, and before those years with kids, she worked with youth in the Tenderloin District of San Francisco. It was during one of those tough days when she couldn't see a blade of grass or find a tree to lean on that she first considered the Anake Outdoor School.
"One day while working in a homeless shelter, surrounded by those in crisis, no trees in sight, I found myself on the internet during a break from the chaos, and came across the Wilderness Awareness School or some mention of it. If you had told me then that 10 years later I would attend WAS and practice primitive living techniques and wilderness skills, I would have thought you were crazy."
The point is that even then she was longing for a deeper connection to the natural world, she tells me.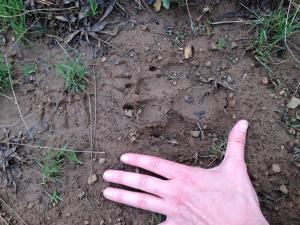 "Intuitively I could sense that this was something the world needed, and something that could bring true healing to people."
"Something was stirring in me even though the world I was living in back then was pretty incongruous with a hippy nature-loving community out in the woods in Western Washington!"
"I think part of my life's journey might be about bridging these two worlds in some way.  I have no idea how that is going to happen at this point, but it's the only way I can make sense out of the extremes I've experienced."
This past summer the fresh Anake-grad worked with an organization called Rites of Passage Journeys as a wilderness guide and mentor.
She took 8 and 9 year-olds out into the Olympic National Rainforest as a rite of passage.
"My biggest hope for these kids is that they get what they need from the experience, and they come away with a sense of wonder, curiosity, and excitement for the natural world."
In July, Brooke had plans to be a part of the Wilderness Awareness School's summer Wolf Tracking Trip to Idaho for teens.  She was super-duper excited for this experience since learning to track had been so amazing for her during her Anake training. Unfortunately, an injury kept her from joining in. Nonetheless, she cares deeply for the wolves and shared details of a first outing.
*          *          *
[pullquote]My first tracking adventure was a highlight of the year. [/pullquote]
As she walked through the forest, she wandered away from the small group. "Intuitively I walked until I was crossing over some fallen trees.
"All of the sudden I was standing right in front of a kill-sight, and I could see the hide still hanging–meat still on the bone."
She could hardly believe she'd found this clear sign of the wolves and their livelihood.
Surrounding the fallen elk, the wolves had marked their territory with dung. In her awe Brooke picked up a lower-jaw bone thinking she'd take something back to show the others. Someone else had already sawed off the antlers.
"It hit me that the wolves might be watching. Sure, they're afraid of humans, but I was threatening their dinner."
She dropped the handful of impressive proof of her successful tracking and–as calmly as she could–walked back over the fallen logs until she found her buddies.
It would be months later that a package would arrive in the mail–a gift from a classmate who had tramped the woods with Brooke that day."
"My friend had returned to the site and took a knuckle bone, cleaned it up and sent it to me to use as my hand hold for my bow drill kit." Now Brooke can make fire with an elk bone in her hand.
At the end of October someone shot the alpha female wolf from that pack.  "It was on the news," Brooke emailed recently. "It's highly possible that I tracked her lovely paws along that creek.  I was so sad when I heard that. Someone shot her for sport in the hind quarters and there is a criminal investigation happening since they are endangered.  What makes it especially heartbreaking is that these wolves have not once predated any livestock despite the fact they are surrounded on all sides by farms.  There was no reason for someone to do that other than cruelty."
*          *          *
[pullquote]I believe this work is so deeply needed in our world.[/pullquote]
Though she recently took the leap and married her six-year sweetheart, Tristan, for the first time in a long time, Brooke says she doesn't have a map for her future.
"So far I've had things fall into place since I graduated from Anake. I'm going to keep riding that wave and see where it leads. I feel like I've opened up some exciting new pathways for myself, and joined a community of amazing people both at WAS and beyond. The primitive skills, and wilderness guiding communities in Washington are full of some incredible, open-hearted people that hold really special knowledge."
Brooke envisions working for a wilderness school, maybe starting her own someday, or running smaller programs at local schools.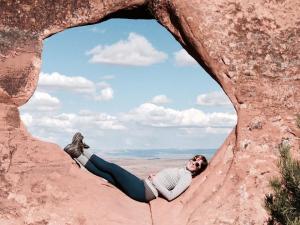 I met adventurous Brooke Hall long, long ago, and I'm grateful she shares her story. Growing up, she seemed a much younger cousin, but now that we're both over 30, years don't matter much.
Thank you, Brooke, for letting me share a slice of your life here. I look forward to seeing what happens next–your graceful way of riding the waves.
For more information about programs at the Wilderness Awareness School or the Anake Outdoor Program in particular, see links below.
—————————————
Links You Might Like:
Website of the Anake Outdoor School
Learn Wilderness Survival in an Exciting Year Outdoors – Anake Outdoor School 9 minute video talks about the flagship, 9-month program Brooke Hall attended.
Anake Outdoor School: Curriculum, Experience and Students  (3.26 minute video)
Rites of Passage Journeys website