"We do not believe in ourselves until someone reveals that something deep inside us is valuable, worth listening to, worthy of our trust, sacred to our touch. Once we believe in ourselves we can risk curiosity, wonder, spontaneous delight or any experience that reveals the human spirit."
e.e. cummings
September's gift comes from Rosemary Powelson, once a colleague at Lower Columbia College. She taught art for many years, tap dances, acts in plays, and is a joyful soul living it up in the world. I think you'll enjoy this travel story: She took her granddaughter to Paris–and it's a lovely tale of how we can love each other well.
Thank you, Rosemary. I've fallen behind on my own blog-entries, but more will come. For now, how fun to share Rosemary's story. When she told me about their time in Europe, I said, "Would you write that for us?"
*          *          *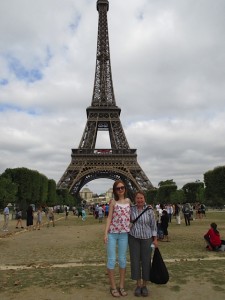 One summer afternoon, some years back, my 10 year old granddaughter, Renée sat on the couch reading The Little House on the Prairie. Out of the blue she announced, "I want to go to Paris."
"Sure, I said, when you're 16." I didn't think much more about it, but soon I noticed her "Paris" t-shirts and the Eiffel Tower key chains hanging from her back pack. She had a big dream and trusted me to make it come true. I opened a savings account and started dreaming with her.
On her 14th birthday she looked me in the eye and asked, "Are we really going to Paris?"
"Yes," I replied–and felt the train leave the station. Continue reading "Paris with Renee"