"We do not believe in ourselves until someone reveals that something deep inside us is valuable, worth listening to, worthy of our trust, sacred to our touch. Once we believe in ourselves we can risk curiosity, wonder, spontaneous delight or any experience that reveals the human spirit."
e.e. cummings
September's gift comes from Rosemary Powelson, once a colleague at Lower Columbia College. She taught art for many years, tap dances, acts in plays, and is a joyful soul living it up in the world. I think you'll enjoy this travel story: She took her granddaughter to Paris–and it's a lovely tale of how we can love each other well.
Thank you, Rosemary. I've fallen behind on my own blog-entries, but more will come. For now, how fun to share Rosemary's story. When she told me about their time in Europe, I said, "Would you write that for us?"
*          *          *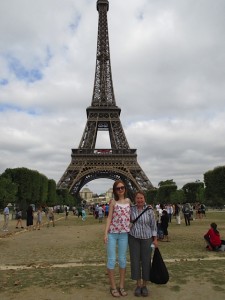 One summer afternoon, some years back, my 10 year old granddaughter, Renée sat on the couch reading The Little House on the Prairie. Out of the blue she announced, "I want to go to Paris."
"Sure, I said, when you're 16." I didn't think much more about it, but soon I noticed her "Paris" t-shirts and the Eiffel Tower key chains hanging from her back pack. She had a big dream and trusted me to make it come true. I opened a savings account and started dreaming with her.
On her 14th birthday she looked me in the eye and asked, "Are we really going to Paris?"
"Yes," I replied–and felt the train leave the station.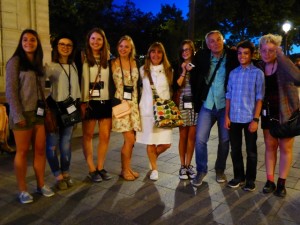 How do you travel with a 16 year old in Paris? Searching the web I found a Road Scholar tour called "Intergenerational in the City of Light: Discovering Paris, Age 14-17". On this 8-day trip we would meet and travel with other teens and their grandparents who would share our passion for visiting all the traditional highlights and landmarks in this famous city. We both agreed it was the perfect solution.
To her generation, guide books, like typewriters, belong in a museum of ancient artifacts. So, I designed a simple, interactive game to introduce her to the city and help us build our independent itinerary. We called it "Paris Q&A". We sent emails back and forth, each of us asking questions and finding answers to educate ourselves about the City of Light.
In one email she wrote, "I bumped into Sacré Coeur while researching the Eiffel Tower question. Let's put it on our list."
Answering another question she discovered Monet's water lily paintings at l'Orangerie, and we saw them before our group journeyed to his gardens in Giverney where he painted them. Researching one of her fashion questions I read about the Triangle d'Or, the mecca of haute couture shopping, and stumbled on a fascinating biography of Coco Chanel. Digging deeper into that question I learned about the free fashion show every Friday afternoon at Galeries Lafayette, and got us tickets.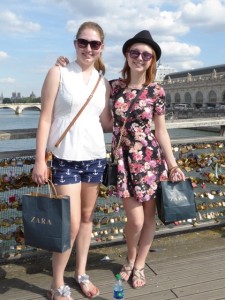 "Le shopping" ranks high on the list of most teenage girls visiting Paris, and Renée was no exception.   Every time it was mentioned she jumped up and down and squealed. She wanted to experience Paris by strolling down the streets window shopping until something she saw struck her fancy. With that in mind, and a few more museums I wanted to see, we added four extra days to our trip.
On the morning of her 16th birthday we boarded the plane for Paris. On the flight she watched "The Avengers", and I chose the "The Second Best Exotic Marigold Hotel". Sneaking a look at the brawling super heroes on her screen I wondered how we'd bridge the generational divide. YES! Paris public transportation took care of that. We read maps and learned to navigate the city by metro and bus. We dubbed ourselves "The Metro Mademoiselles".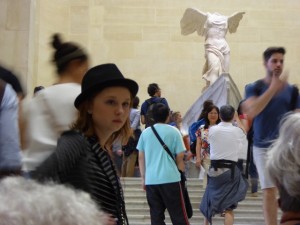 When we got lost and I wanted to ask for help Renée said, "We've got to learn to do this ourselves." At night we laid in bed reliving our successes and giggling about our failures.
After three days of independent travel we met our group and guides. Renée and the other teens shared many of the same interests. And I, like the other grandparents, agreed that this trip was for them and proudly stood by as the young ones devoured chocolate mousse, bought souvenirs, and raced up the stairs of the Eiffel Tower.
Toward the end of our tour and munching on yet another macaroon, Renée said, "This has been perfect. I wouldn't change a thing."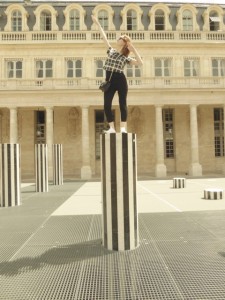 A once in a lifetime opportunity fell into our laps on our last day in Paris. Through a chain of friends I was able to get tickets to watch the final stage of the Tour de France from the reserved seating section near the finish line on the Champs-Elysées. On a rainy Sunday afternoon the two of us wound our way through the crowds and found our seats. As the racers charged across the finish line in a blur of vibrant colors we cheered with the thousands of other spectators. Wet, cold, and hungry we took our last metro ride back to our hotel, and treated ourselves to a final meal of steak frites.
That evening while I was brushing my teeth I looked up and saw Renée leaning against the bathroom door frame. I was slightly embarrassed, but I quickly realized this was a sign of how relaxed and easy we had become with each other. "I'm going to miss the French breakfast", she sighed.
I rinsed the toothpaste out of my mouth, and smiled. "In five years when you're 21 let's take a road trip, I said. You can drive, and I'll navigate." "Where do you want to go, she asked." "I don't know," I answered. "Let's dream."
by Rosemary Powelson
http://www.rosemarypowelson.com