"Finding beauty in a broken world may be creating beauty in the world we find."
Terry Tempest Williams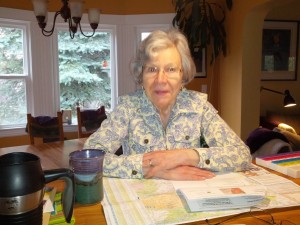 Almost twenty years ago, I met Glenna Cook in a poetry workshop. Six of us gathered round a dining room  table in Tacoma, Washington. We talked and wrote, wrote and shared. Glenna was twice my age–literally–and back then it seemed a lot of years–a huge gap.
To my younger self, our life-experiences and concerns seemed unalike. Nonetheless, outside of our poetry workshop, we met up at the local Borders Bookstore, swapped a poem or two and traded stories. We witnessed each other's writing struggles and stubbornness, and once went to the Skagit Poetry Festival together and shared a room at a motel in Mt. Vernon. When I moved two hours south for a full-time teaching gig, we stayed in touch.
Those thirty years between us don't seem to matter much anymore: The truth is, I appreciate Glenna now more than ever. A lot's happened since I was 30, in that poetry workshop writing some of my first poems: Loss and gain, birth and death, anniversaries and marriages–sharing stanzas by email most of the time.
Our friendship is a gift which gives me a glimpse into life from a woman who's lived a few decades longer than me–with different life-experiences. Now I know, people matter more than anything else, and it's a privilege to know someone's story and feel safe revealing your own.
Glenna and her husband, Ken, recently celebrated their 60th anniversary. In honor of this milestone, they took a trip down the Oregon Coast–stopping to visit us en route. They stayed the night, and we enjoyed white wine, seared tilapia, and potatoes dug fresh from our garden that morning.
Their Beginnings
Ken met Glenna during her senior year of high school. He was an enlisted man from Illinois, stationed at Fort Lewis, and she hoped to high-tail it out of Olympia and go to college. Her plan curved when he convinced her to marry, move to Tacoma, and raised three kids.
Finally, when she was in her early 50s and still working for the phone company, U.S. West offered a buy-out plan which invited her to retired early. At age 54 she went home after a long workday and announced her plan.
"I'm retiring," she told her husband. "I'm leaving my job and going back to college."
Glenna Cook graduated from The University of Puget Sound Magna Cum Laude–top of the class–only a couple years before we met. She studied English, won first place in a Humanities essay contest, and that's when she began to attend the Shakespeare Festival in Ashland, Oregon every July with a group of people from the university. It's also when she began to write poetry in a more serious way.
After graduation she decided it was time to relearn the violin. She found a teacher and surprised herself: It didn't take long before she could play old songs again.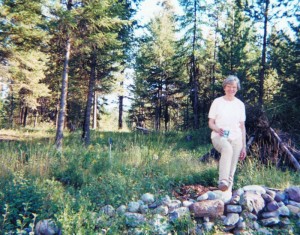 St. Regis, Montana: Another Twist
After thirty-some years of living in their house in south Tacoma, Ken was bored. He'd done all he could to this piece of land and the buildings that stood on it. There was no more room to expand and nothing more to renovate, so they decided to move to Montana. It was Ken's dream to build a house.
They bought property in a little town called St. Regis, about an hour from Missoula. Glenna went along with Ken's dream–though kicking and screaming from time-to-time.
"I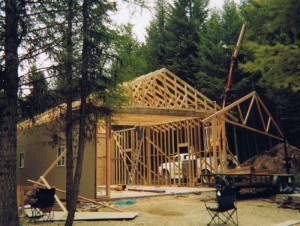 know how to make the best of things," she says. "I knew I could create a life for myself and find people."
They first lived in an RV, moved the rig into the garage once that was possible, and built the house. Glenna found some women to walk with around the neighborhood, found musicians with whom she could play her violin, a church where she and Ken fit (and he sang in the choir!) and she tutored at a local elementary school. She also bulked-up, pounding nails and working as Ken's assistant.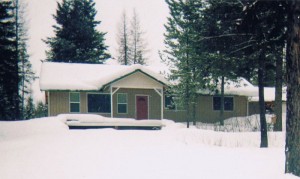 Wonderfully for the two, when it was time to leave Montana, they were able to sell the house in St. Regis and buy a 1905-home in Tacoma. Though we never visited them in their seven years away, following the progress of these 70-somethings gone a-wandering into the American Wilds was lots of fun–and inspiring.
Why not just do it? seems the motto of that venture.
Focus Back to Poetry
This September Glenna will spend two weeks at Hedgebrook, a global community of women writers located on Whidbey Island in the Puget Sound. Hedgebrook is a literary nonprofit with the mission "to support visionary women writers whose stories and ideas shape our culture now and for generations to come."
During Glenna's weeks at Hedgebrook, she will work on a collection of poems she is writing about her younger sister, Phyllis–who was born with Down Syndrome. These poems tell a powerful story of Glenna's life as the middle-kid who often felt almost invisible between her hotshot brother–good at everything he wanted to do–and her always happy and always supported-to-be-her-best-self little sister.
"I have only one month to go before Hedgebrook," Glenna writes in a recent email." Wednesday, I went to Olympia to interview two men who attended the handicap Sunday school class that my mother taught for 30 years. They each gave me some insights. . . [and] What I'm learning is that there is not a whole lot of difference between disabled and able, abnormal and normal.
"It's just how you look at it. Paul, who is 64, has cerebral palsy, and now is completely paralyzed from the neck down. He uses a device with his tongue to type e-mails. He has written a book, The Long Road to Advocacy, about his life and his role as advocate for the disabled. He has been to Washington D. C. as an advocate. Donny is 84, is autistic, and makes exquisite toys out of Lego blocks. I, who stayed far away from the disabled after I left home, until I became Phyllis's guardian, found myself really enjoying my visits with these remarkable men. Writing this book is having a profound effect on me."
Glenna is a soft but strong voice in this world. She isn't flashy. She's not the sort of women who tries to impress anyone with her wit or grandeur or fancy car and clothes (though she is rather giddy driving her Prius these days!). She walks lightly, grows roses, and sings her songs in a key of her own–often while no one is nearby.
Thank you, Glenna. Our friendship has grown into one I cherish, and I appreciate your sharing of stories and your listening to mine.
Here are several of Glenna's poems in progress–toward her collection of poetry related to her sister, Phyllis:
Fierce Love
Most people perceived you as flawed, God's error.
Mother saw you as blessing.
Her fierce love, in your first months,
brought you past pneumonia's peril.
She fed you goat milk and natural vitamins.
Mrs. Mann massaged you with her miracle hands.
You thrived.
Rather than hide you in the shadows,
she placed you at the heart of things—center stage.
At church gatherings, school carnivals,
there you'd be, perched on her lap,
or atop father's shoulders,
curious gaze taking in a world
difficult to comprehend,
yet, one where she'd always
make a place for you.
–Glenna Cook
Separate Courses
For Phyllis
I see now I had to go my own way.
Wife, mother, career woman–each a turbulent sea,
plowed without compass or sextant.
How could I have cared, also, for you?
And you had your own course to sail,
easier than mine, it seemed.
Though you could barely read and write,
or comprehend two times three,
you had someone always at your side,
helping you reach your highest potential.
And if you didn't, no one blamed you.
A carefree teen, you breezed,
on your bike, through the neighborhood,
rode your slow horse, Lucky, around the yard,
and danced in your room to Elvis.
Nineteen years, you archived documents
onto microfiche. Trained by Zerox, in a special
program, first Down syndrome person
hired by the State of Washington.
We continued on our separate courses,
little in common to draw us together.
Then Father's death made me your legal guardian,
and Mother's stroke left you solely in my care.
I was the star that kept you on course,
the anchor that held you, your safe harbor.
I showed you how to do your laundry;
took you shopping, to the doctor, dentist, beauty salon;
changed your clocks to Daylight Savings Time,
made sure you had money, a bus pass,
sox without holes, a new jacket when the zipper broke.
You knew a phone call would bring me.
Glenna, I'm sorry,
I made a mess.
Three a.m., thirty miles on the freeway,
to clean you up and take your temperature. I didn't mind.
You were not the burden I expected.
Your trusting need called forth the best in me.
For those nine years, until your death,
I wanted only to protect you.
–Glenna Cook
Links You Might Like:
St. Regis, Montana travel information