"Nobody sees a flower–really–it is so small–we haven't time–and to see takes time like to have a friend takes time."
Georgia O'Keefe, American Artist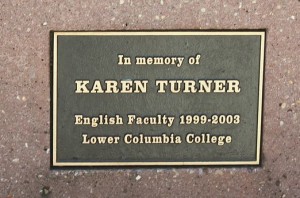 Many of you, I imagine, have had this same experience: A friend, teacher, pastor, rabbi, astrologist, lover, sister, doctor, neighbor–someone in life–is like a fixture. We take them for granted. We don't realize how important they are or how we've depended on them until it's too late.
Not to sound dramatic, but you probably know what I mean. It's human–waking up a bit too late. For me, it wasn't losing my mother that left me reeling in the way of "I never realized how important she was." I had regrets, but I knew Mom was important in my life. Her diagnosis spun me into a panic and regret, but I would have some time near the end of her life to say goodbye, make some peace, and let her know how I appreciated her. I tried–as difficult and awkward as I was.
When she died, I was just 31 and hugely sad. The loss called me to attention in a way nothing had. I wanted to make her proud. I wanted to live a life that would show my mother's efforts and all she gave of herself to me was worthwhile.
A couple of years later, I traveled to India
–a place I'd wanted to go since my early college days. After some months meeting children in Delhi's ghettos, scattering some of Mom's ashes in the Ganges, and visiting Mother Teresa's home for the dying in Kolkata, I met my husband. He joined me in studying yoga, and I continued a meditation practice I'd begun during my mother's illness. These habits helped me to slow down.
I returned to Tacoma and soon found a full-time teaching gig that required I relocate once again. My helpful practices mostly fell away as I scrambled to find a place to live and then a way to be in this new mill-town community.
This is when I met Karen Turner.
At any other intersection of my life, I thought, she and I would not have gone for tea, planted a vegetable garden together or shared Saturday night lasagna and Nepalese Lentils . In any other town we would not have celebrated Christmas Eve sipping wine and enjoying her bouillabaisse, playing Pictionary and poker together in my little house on Larch Street.
Karen used to tell her English classes, "Every teacher is different–like Deborah and me. There isn't just one way." She would laugh as she told them about my quirky ideas of how to write well. "Deborah says you must care about what you write. It you don't care, don't bother."
"Care" wasn't a word Karen would use in her composition instruction, yet we appreciated each other's ways. She was a grammarian well-versed in rhetoric and theory and liberated students to write through the practice of methods proven to produce. She was loud, demanding and popular. Students loved her, and for a while the dean passed around Karen's evaluations to show the rest of us what we should be working toward.
We were hired together in 1999.
By the time Karen signaled me into her office the winter of our third year, we were almost tenured–and she was feeling pain in her breast.
"I have an appointment in three weeks," she said.
"I don't think you should wait," I said.
But Karen was only 34, and neither of us believed it could really be anything serious. She was much too young and full of life.
In three weeks, Karen returned from the doctor's appointment grey-faced as she stood in my office door.
"Cancer. Bad, bad, bad–advanced-stage cancer." She spoke in that tone she used when letting her students know she meant business.
I was standing next to her and almost collapsed. Panic whipped through my body–shock, horror, fear–and guilt. Why hadn't I insisted she get an immediate appointment? I knew cancer. I should've pushed.
Life tumbled after that day.
I don't remember what I said. I don't know if I cried right then and there in front of Karen, but I don't think so. We weren't touchy-feely friends. We rarely cooked together. She would cook for us, or we would cook for her and Rich, her husband.
Karen had a mastectomy, then chemo, radiation, too. I can't recall all the details. Her parents came pronto. Her mother, also a college English instructor, took over Karen's classes. Her father drove her to appointments, and Rich was finally hired by the college for a computer job.
Time passed. I don't know how many months, maybe a year. We earned tenure, and we celebrated. She was also preparing for reconstructive surgery. Her mom came again to teach her classes, and she had the surgery in early winter.
It was near the end of spring term when Karen came again into my office and sat. By now I thought she was healing and on the rebound. All of us did. People all over campus had been rallying for Karen and then applauding her awesome recovery and her continued determination to serve students a top-notch witty round of demanding class meetings.
She sat quietly, and I waited–my whole body hurting from fear. I had learned over the course of Karen's illness to listen and stay strong and mostly quiet. Sometimes she had detailed a procedure, blood and needle. She had once described cutting and sewing as I had stood in the hallway. Listening to this play-by-play, I began to feel faint. I'd learned techniques and used my deep breathing and concentration to stay present–and upright.
"Deb. It's back. The cancer is back."
The fight in Karen's voice was gone, and neither of us could pretend. She was only a year younger than me.
"What can I do? Is there anything you'd like?" I knew there wasn't much to help now, but she actually gave me something to do.
"Let's have dinner at your place tonight. Can we have a gathering? I just want to be around people."
Maybe I gave her a hug. I think that's what happened, and I lit up the charcoals that evening and tossed a green salad with her favorite fixings–which I can no longer recall.
It was a Friday night, and we gathered in the backyard where we'd planted that garden together. This was our last dinner together in this easy-going way. Though clouded by bad news, that evening we didn't talk about the future-to-come. A bunch of us from the college wanted to make this evening as good as it could be for Karen. We sat outside as the sun set. Maybe we played Pictionary or poker or Trivial Pursuit.
Grades were due soon. The cancer was spreading fast and had moved into Karen's brain. At first she said yes when I asked if I could read the student papers for her, but when I went to leave she asked for the folders back. She couldn't quite let go, and I handed them back but asked her to call if I could help in any way.
During the last days of the term the dean was worried about getting Karen's grades out on time. She was also worried about who would teach Karen's classes in the fall. I felt angry. Karen was dying!
In late-June I went to her house for a final visit. She stayed in bed, and we talked for a little while.
Karen died July 18, 2003. I was in Europe visiting my soon-to-be-husband's family–and studying.
"Go," Karen had said. "We're so glad you and Ludger are going to get married. We like him." And she beamed from her weakness, a final blessing.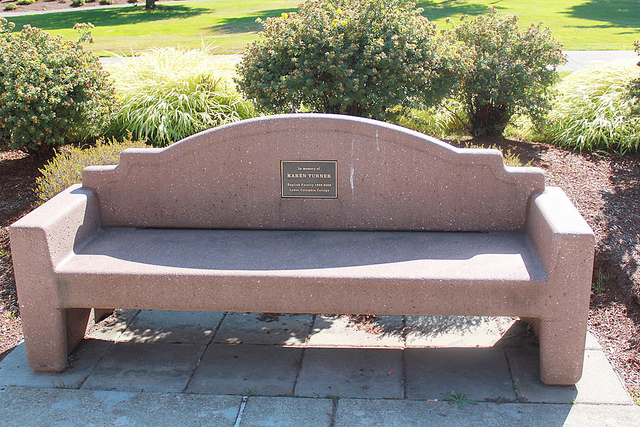 "Don't worry, Deb."
I felt bad leaving her. Even though her parents stayed with them now, and her sisters would come, and friends would soon have to remain at a distance, it felt wrong to leave town, but I went.
When fall term began in September I felt so lonely. I didn't know what to do with my ache, and no one said much about Karen's absence. There had been a memorial service in late-July, and a bench would be placed in front of the Admissions Building to honor her service to the college.
I grew to realize, I was on my own: This was my burden, my grief, my guilt–my friend gone. She was more than a colleague, and I missed her. During the years of our brief friendship, I hadn't understood our intimacy. I had never thought of us as "close" because our friendship looked different from any others I had experienced.
I had been looking for something else rather than seeing what I had in my life. It is so easy to do. I still do it too often, but I am trying to learn to feel what is real now.
Karen was a gift to many people. She reminds me of how I can forget to be here now. She reminds me to appreciate people as they are.
Circumstances dropped us into the same mill town, into the same Department of Language and Literature. That's how life happens. We make our plans, but mostly we respond to what lands in our lives.
I thank Karen for her wit and her wisdom to be brave in the world and to live loud as herself. Her sincerity and razor-sharp wit taught me a lot.
Thanks for inspiring so many lives!
Karen Marie (Wagner) Turner
February 10, 1967-July 18, 2003
and
Antje Elisabeth Kaiser
October 29, 1943-December 3, 1996
Note:
Rivertimes Muse has changed its handle to L.I.T. Live(s) & Literature Inspiring Today.
After our inaugural six months, we think this name better fits our blog's mission: To celebrate people doing good work in the world who are driven by more than the want for wealth, fame and power–people who, themselves, are following (or have followed) some thread of inspiration.Watch for more changes to the look of the blog.

Next week:
Meet John Fox,  an international leader in the movement of poetry therapy as an expressive art and medicine.