"Though we travel the world over to find the beautiful, we must carry it with us or we find it not."
— Ralph Waldo Emerson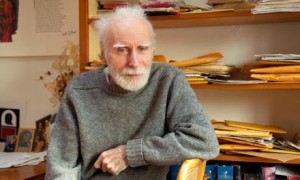 Last week, Peg brought Jack Gilbert's poem "A Brief for the Defense" to our early-morning poetry circle.
Sun Magazine published this poem along with a short biography and their regret that they hadn't known of Gilbert's work until reading about his death in The New York Times. Jack Gilbert, 1925-2012, lived "mostly off the poetry grid," the article said.
He rose to the top in the poetry world and then chose to step away, travel and feel his way through the world. He chose to study living rather than study academically–or be studied. In 1962, at age 37, he won the Yale Younger Poet's Prize but six months later bowed away from public view. Over the years he gave few readings and taught only off and on at universities–both in the USA and in Europe–to earn a living.
I hadn't realized just how lucky we were when he visited our little college in the early 2000s.
Collected Poems
by Jack Gilbert
It was Joe Green, poet and former colleague, who first told me Jack was one of the best poets alive. He flew out from Northampton, Massachusetts, gave a workshop in the afternoon and read in Longview's community library that evening. In between, the 70-something year old man napped in the back room of the little house I rented on Larch Street. That weekend he gave a workshop in Portland, a guest of Mountain Writers.
"To be a poet you must observe. You must watch people–study life," he said as we walked from one building to the next. "A poet must pay attention."
The best poetry helps us to understand ourselves and our world. A mix of beauty and emotion, words that together create meaning into energy–like any art does at its best. His poetry gets to the grit of life and death.
Peg Edera shared the poem with us that morning after having sent it to her daughter who is a student of anthropology working with youth in Uganda. The poem dares us to "risk delight" despite all the pain around us. Peg's daughter was feeling some overwhelm–seeing the poverty and lonely youth. My sister recently spent some weeks in Uganda, too–with her teenage son. They visited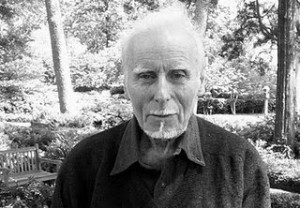 hundreds of children who are living in an orphanage. The parent-less children were so happy to have attention. I shared this poem with her, and she plans to pass it along to her son.
"We must risk delight. . . We must have the stubbornness to accept our gladness in the ruthless furnace of this world," writes Gilbert.
This poem brings me back to the simple power of choice: We choose what to see, what to say, how to think and to live beyond despair. This poem is a good reminder for me when the world seems a bit crazy.
"Risk delight" and feel joy.
A Brief For The Defense
by Jack Gilbert
Sorrow everywhere. Slaughter everywhere. If babies
are not starving someplace, they are starving
somewhere else. With flies in their nostrils.
But we enjoy our lives because that's what God wants.
Otherwise the mornings before summer dawn would not
be made so fine. The Bengal tiger would not
be fashioned so miraculously well. The poor women
at the fountain are laughing together between
the suffering they have known and the awfulness
in their future, smiling and laughing while somebody
in the village is very sick. There is laughter
every day in the terrible streets of Calcutta,
and the women laugh in the cages of Bombay.
If we deny our happiness, resist our satisfaction,
we lessen the importance of their deprivation.
We must risk delight. We can do without pleasure,
but not delight. Not enjoyment. We must have
the stubbornness to accept our gladness in the ruthless
furnace of this world. To make injustice the only
measure of our attention is to praise the Devil.
If the locomotive of the Lord runs us down,
we should give thanks that the end had magnitude.
We must admit there will be music despite everything.
We stand at the prow again of a small ship
anchored late at night in the tiny port
looking over to the sleeping island: the waterfront
is three shuttered cafés and one naked light burning.
To hear the faint sound of oars in the silence as a rowboat
comes slowly out and then goes back is truly worth
all the years of sorrow that are to come.
Links You Might Like:
The Sun Magazine: A Brief_For_The_Defense by Jack Gilbert
Reflection from The New York Times,  November 12, 2012.
Interview with Poetry Daily & Jack Gilbert
A bio of Jack Gilbert on The Poetry Foundation
"Poetry: Who Needs It?" by William Logan, New York Times, June 14, 2014