"Cooking is like love.
It should be entered into with abandon or not at all."
Harriet van Horne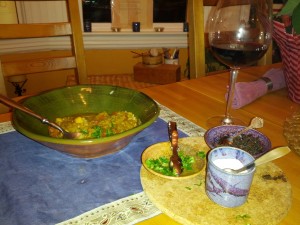 As we drove home from our New Years visit to Port Townsend–always an amazing eating venture with friends Paul and Sharon–I thumbed through a cookbook borrowed from the Multnomah County Library. I even jotted ideas in my notebook! I knew I'd get lost imagining flavors and textures, so I scribbled possibilities for first-week-of-the-year menus.
Mollie Katzen is author to one of the first cookbooks I used back in my twenties: The Enchanted Broccoli Forest. Who wouldn't love to cook from a book with such a great title?
Since then, Katzen has updated her nutritional understanding: She recommends more olive oil and less butter, more yogurt and less cheese–yet I still go back to some of those first-favorites and still think about the old friend who gave me that book as a going-away gift. I was soon to set out for the east coast from Tacoma, ready to begin studies at the University of Massachusetts and teach high school English.
Snapshots in my mind of old friends remind me how lucky I've been–the many lives that have touched my own even as we go our separate ways. I need to remind myself. What better way than through food?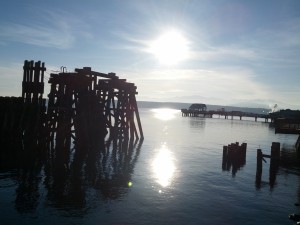 Last night I made Tunisian Tomato Soup–our first soup of the year. Ludger was in charge of the brown basmati served in the bottom of the bowl. Atop each serving, we sprinkled the suggested currants and freshly chopped parsley from the winter garden.
We've decided it's a keeper–one worthy of guests. Meanwhile, check it out. Maybe you'll want it as a nourishment to your life. If you like some heat, add a couple shakes of cayenne near the end.
Tunisian Tomato Soup with Chickpeas & Lentils
Adapted from Mollie Katzen's Vegetable Heaven, 1997
It's yummy–and easy! It's the kind of recipe you can play with, too: If you want only lentils–or all chickpeas–go for it. If you don't like to follow a recipe, glance the list of ingredients and begin. This is a soup!
Yet, the texture of the legumes combined is marvelous, and, if at all possible, avoid the canned chickpeas: Soak a cup of dried overnight, and then cook them for an hour or so. It's simple and SO MUCH BETTER!
One more recommendation: You might choose red lentils because they are pretty, but remember how quickly they cook. It's easy to end up with mush. For this reason, I go with the green lentils.
While it's not necessary, I roasted the cumin seeds. You could roast all the spices, I suppose (as my friend Louise does these days). She says it enhance the flavors and takes away the bite. Enjoy!
INGREDIENTS:
I cup uncooked chickpeas, soaked overnight (or 1 or 2 15-ounce cans)
I cup uncooked green or French lentils, rinsed and picked over.
I cinnamon stick
2 T Olive Oil
4 cups minced onion
2 T minced garlic2 teaspoons salt
1 teaspoon turmeric
1.5 teaspoons cumin seed
2 teaspoons ground cumin
2-3 Bay leaves
1 28-ounce can crushed tomatoes
Black pepper & cayenne to taste
3 T fresh lemon juice (or to taste)
Optional Toppings:
Yogurt
Minced fresh parsley
A few currants
Directions:
Place soaked chickpeas, uncooked, into a large pot and cover with about 3 inches water. Bring to a boil, lower heat to a simmer, partially cover. Cook for 1 hour. (If using canned, simply drain, rinse, and set aside.)
Add the lentils and cinnamon stick, partially cover again, and cook for another 30 minutes or until the legumes are perfectly tender but not mushy. (If using canned chickpeas, cook lentils with cinnamon stick in 7 cups water until tender.) SAVE THE WATER.
Meanwhile, heat the oil in a soup pot or Dutch oven. Add onions, garlic, salt, turmeric, cumin seeds, ground cumin, and bay leaves. Sauté over medium heat for 5 to 8 minutes or until onions are soft.
Add the tomatoes and 6 cups water (including the reserved cooking water for legumes), and bring to a boil. Lower heat to a simmer, partially cover, and cook for another 15 minutes or so. Fish out and discard the bay leaves and cinnamon stick.
Stir legumes into the mix, and cook for a little longer, 5 minutes or so, so the legumes won't become mushy.
Season to taste with black pepper, cayenne, lemon juice and salt.
If you try it, let us know what you think!
Links You Might Like:
"My doctor told me I had to stop throwing intimate dinners for four
unless there are three other people."
Orson Welles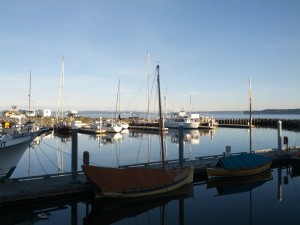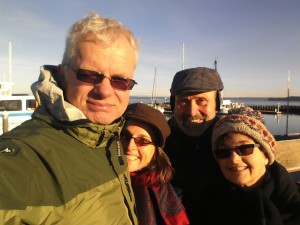 .