"To live is so startling it leaves little time for anything else."
Emily Dickinson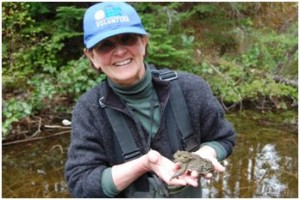 Ann Kastberg is another person living into the wonder. She's one of those born-agains, but not in the way you might think: After a career as an accountant and years raising kids, she chose a new husband, and then she chose frogs. Russ is a great guy. As for the frogs, few people get more excited about these thin-skinned critters than does Ann.
With waders strapped high, she points to a slimy egg-mass, "Another one! It's a Red-legged!" she hollers, and someone on the crew will squiggle a line to the tally of record.
When I met Ann years ago I wondered what drove her. I wondered how someone gets so dedicated, becomes an amateur-expert engrossed in the lives of frogs and salamanders–learning about the lifecycle of amphibians and tallying egg-mass-sightings for the use of scientists–as if earning her own Ph.D.
She says she has always loved frogs and tadpoles. As a kid with a backyard swamp in Portland, she was lost for hours of wonder, "And my mom never worried." Around 2000 she bought a house in Kalama, Washington. "There was a pond and three Red-legged frogs. It got so I could pet them!"[pullquote]"People can do things on their own land to integrate people's use and wildlife's use.[/pullquote]
Six years ago she became super-amphibian-surveyor–strapping on hip-waders and organizing trainings and groups of volunteers to search for egg-masses around southwest Washington. She says frog-mating season (between January and April) is a great time to get out.
"It's a discrete  season and interesting," she tells me.  "It's so different from anything else. You can go out in this really cold weather and they're out there having orgies."
Although Ann is the super-enthusiast, she and Russ "frog" together. "He makes sure I have the right boots and makes frog wands." He helps with organizing, too.
She tells me 33% of amphibian species are either threatened or endangered–more than for birds or mammals.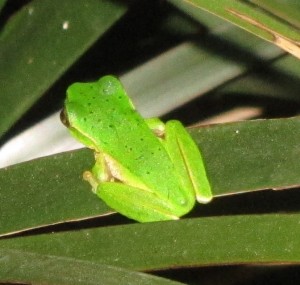 Their thin skin makes them vulnerable so they are like the "canary in the cavern"–a critter scientists watch as predictors of potential human problems lurking. The frogs and salamanders will likely feel toxins–and die off–sooner than the rest of us.
At age 61, Ann says she's kind of simple. "I care about survival for amphibians, water for people, and the material stuff just irritates me."
Besides this excuse for spending hours and days outdoors, Ann likes teaching people–like me–more about the natural world.
Connected to the Willapa Hills Audubon and the Columbia Land Trust, she has met and invited in all sorts of volunteers–including Luke, now attending high school. He began with the project when he was only 10 or 11. He wore waders and lead the way on the one Saturday I joined in–frogging at Indian Jack Slough for a survey.
"We need young people to get involved–so it's great to have Luke with us." Ann hopes a young scientist–a grad-student who needs a project and wants to utilize their years of data–will show up soon.
"We have six years of data, and we'd love to find someone to take it on and continue."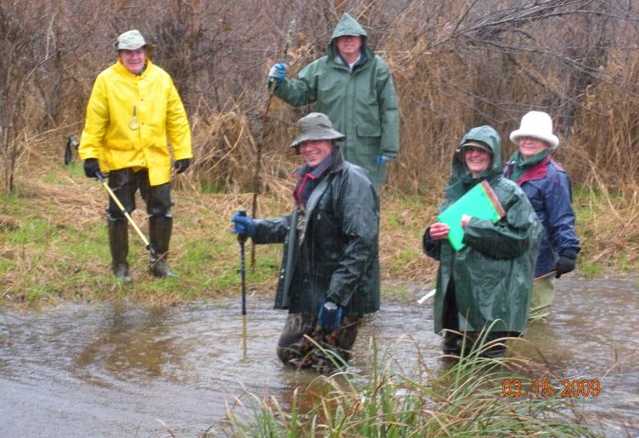 Even though amateurs have been the scouts for sightings of frogs, salamanders and egg-masses, trained scientists oversee the process–which give the data clout.
In the fall, Ann joined an Earthwatch project in Australia.
"I wanted to go early so I wrote to Michael Mahony." He was organizing the tour and is truly an international expert on amphibians, says Ann. To her delight, he not only encouraged her to come early to Australia but invited her to stay with his family.
During that week, his college-age son, Stephen, took her out in search of frogs almost every night. "It meant a lot to me that Stephen would take time to show me around like he did."
"We surveyed for the actual adult frogs, and I saw about 25 different species. Most of the surveys were at night using a headlamp to catch the eye reflection."
As we talked over the phone, I could hear Ann's gratitude for the time she's able to spend out learning so much and looking so closely into this world of "cool creatures."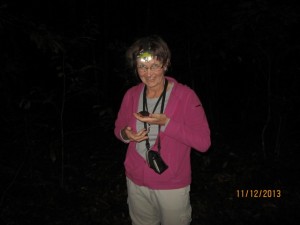 "Material possessions and lots of money mean little. What I care about is contributing–doing some good."
And in her own backyard, in Castle Rock,they've created a frog lounge–a sanctuary and place where frogs can hibernate.
"I didn't know that was even possible!" she says. "People can do things on their own land to integrate people's use and wildlife's use. People can live in integration with wildlife–landscaping with wildlife in mind."
She loves making their own five acres a place where people and creatures–deer, newts, frogs and rabbits–can live together.
"One acre is off-limits to these lovely deer that will eat just about anything! But the other four acres are theirs."
Ann says she gains a continued appreciation  for the complexity of nature and how everything interrelates.
For anyone interested in joining in, check out The Southwest Washington Amphibian Monitoring Project (SWAMP). The Amphibian Survey season is almost over, but they plan to pick up again next season.
I believe a leaf of grass is no less than the journey-work of the stars,
And the pismire is equally perfect, and a grain of sand, and the egg of the wren, And the tree-toad is a chef-ďoeuvre for the highest, And the running blackberry would adorn the parlors of heaven, And the narrowest hinge in my hand puts to scorn all machinery, And the cow crunching with depress'd head surpasses any statue, And a mouse is miracle enough to stagger sextillions of infidels.
WALT WHITMAN
(a "pismire" is an old way of saying "ant"–in case anyone else wondered! And "chef-ďoeuvre" is a poetic way of saying "masterpiece"–especially in art and literature.)
Links & Reources:
If you live in Southwest Washington or in the Portland area and  you'd like to get involved, check out this link:  The Southwest Washington Amphibian Monitoring Project (SWAMP) is an all volunteer program dedicated to empowering community members to assess and preserve the unique ecological resources for our community.