Let us be united
Let us speak in harmony;
Let our minds apprehend alike.
Common be our prayer;
Common be the end of our assembly;
Common be our resolution;
Common be our deliberations.
Alike be our feelings;
Unified be our hearts;
Common be our intentions;
Perfect be our unity.
FROM THE RIG VEDA
What's "inspiring" about the film A Place at the Table–a documentary about poverty and hunger, a film calling us to action in regards to a lack of nutrition for one in four kids in the USA?
I saw it last week—featuring actor Jeff Bridges, Ph.Ds, social workers, and ordinary people struggling to feed their children–or attend school without feeling hungry.
This film shows that "being hungry" doesn't always look like the protruding bellies we've seen on television, children from sub-Sahara Africa or Bangladesh. There is hunger nearby, and it's often kept hidden because people feel ashamed. Hunger in the USA often occurs at the end of the month, and obesity often results from poor nutrition.
Not only is it upsetting to know people go hungry in our wealthy country, but when kids don't get enough nutritious food at a young age, their cognitive abilities are damaged.
I didn't know that in 1968 a CBS program shook citizens and lawmakers into action: The feature documentary showed the depth of hunger in the United States–especially for children. People got upset. Policies CHANGED.
Through the 1970s, programs began to eradicate the problem. I'm no public-policy expert, but the "Big Picture" shows what happened next: By the end of the 70s, issues of poverty–and HUNGER–had lessened, almost disappeared. Then, policies began to change again, and money was redistributed–taken from social programs to fund the military, for example.
The filmmakers argue that we do have the means to feed everyone well but not until policies change. Money for programs such as Food Stamps is continuously under fire (and has recently been cut again).
On the bright side? We can change the way things are.
We can eliminate hunger in the United States because there IS enough food to go around–and because that's what happened not so long ago. But, we must make it the priority–as happened back in 1968. We need to help people to get "back on their feet"–and this assistance will improve the future for all of us.
It's up to those of us with power, money, and enough to eat to take a stand and speak out.
It's up to those of us with a voice and education because we can communicate a vision for changes that will more fairly distribute the wealthh–and the food–in our country.
Since the crux of this blog is to celebrate lives, literature & art inspiring today, I want to bring it back: We are fortunate!
If we're able to tap away on computer keys like I am now or browse blogs and website, read the news and watch movies, we probably have plenty to eat.
I'm highlighting A Place at the Table because I'm inspired by the likes of Jeff Bridges who's taken on hunger as a problem worth his time and  Jessica Chanay, Deputy Director of Partners for a Hunger-Free Oregon who spoke at last week's screening of the film.
Jessica shared a bit of her own story: She landed in the welfare system when trying to raise her kids.
"I was lucky because  back then tax-dollars sent me to college," she told us. Because she was able to earn a college degree, she was able to find jobs that not only paid the bills but now allow her to give back and back and back and back.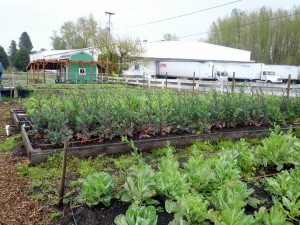 I'm inspired knowing so many people are doing good work in the world, like Abby who led a group of children and parents and recently graduated Master Gardeners to prepare the gardens at the Oregon Food Bank last weekend.
I'm inspired to learn something new everyday and sometimes be brought to my knees because I just don't know what to do next: I can feel so insufficient. Land sliding, airplanes disappearing, kids going hungry in my neighborhood.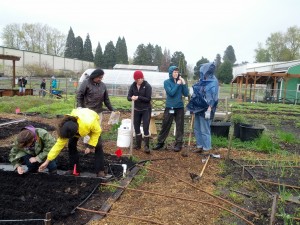 I breath myself back to now and believe in possibility: Let's feed ALL of the children a healthy diet–regardless of a parent's income. We can make it a priority to nourish pregnant moms, too, and life will improve for everyone.
How we vote–at the polls and in the grocery store and by the messages we forward and the ones we write–make a difference. Sending our concerns to our reps and senators and governors and mayors lets them know people care about this crisis.
I'm fortunate. I've never had to worry about finding or purchasing enough NOURISHING food to eat. Thank you to all the people who've helped make it possible.
People really do deserve to eat their share of the apples and cheese, and no one should need food stamps when working 40 hours a week.
I'm happy snuggling on the couch with a collection of poetry and some Dragonfire Tea, but who's going to speak up? When is enough a enough?
Consider letting your own concerns be known, and watch this film if it sparks your interest. Thanks, enjoy spring–and please share your own stories.

 Links:
Find your U.S. representatives in Congress:
http://whoismyrepresentative.com/
"What Are the Solutions? A Place at the Table, Reviewed," by Stacey Slate on March 25, 2013
http://civileats.com/2013/03/25/what-are-the-solutions-a-place-at-the-table-reviewed/
"Documentary 'A Place At The Table' Is A Call To Action On Hunger," by Allison Aubrey. March 01, 2013.
http://www.npr.org/blogs/thesalt/2013/02/14/172040074/documentary-a-place-at-the-table-is-a-call-to-action-on-hunger
Official Website for A Place at the Table,
http://www.magpictures.com/aplaceatthetable/#
"Steps to End Childhood Hunger by 2015," from Jeff Bridges' website.
http://www.jeffbridges.com/hungerfacts.html