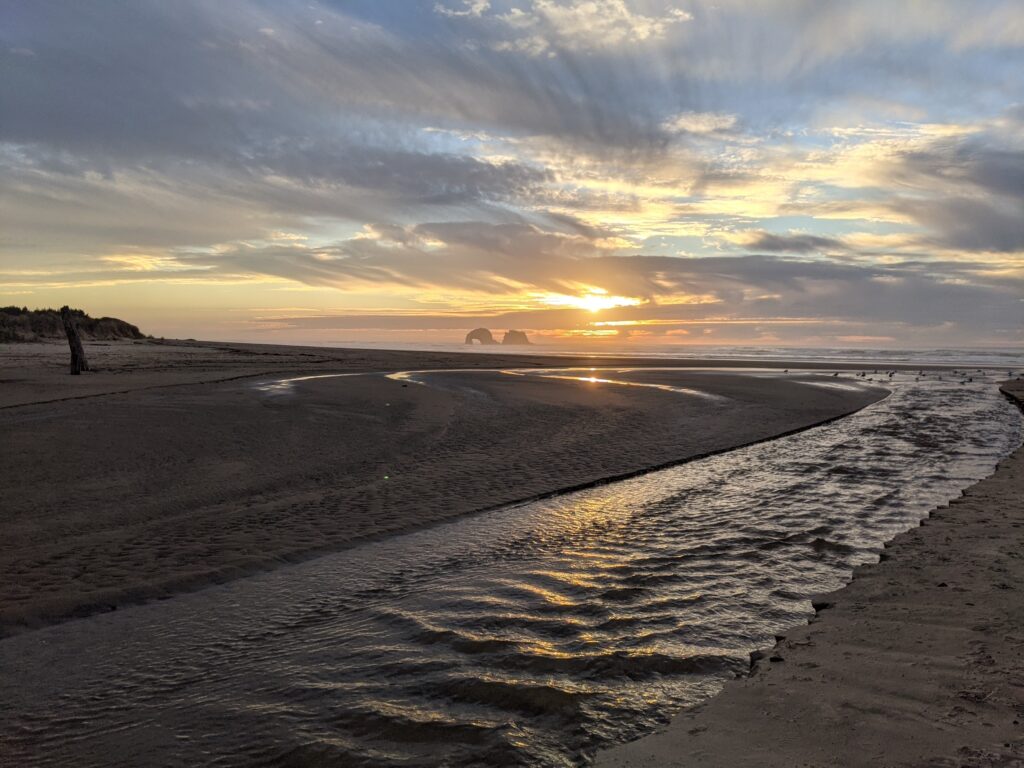 I wear my mask often, but not here where the air feels fresh and waves in motion move with the moon.
I'm conscious to pass by other people with a wide berth, and they do the same, mostly.
I watch clouds zing through the sky.
And I see two children wearing masks as they sit building a sand city. Maybe they came from two different families, but I can't help but feel a longing for them to run free on the beach—fearless and in wonder.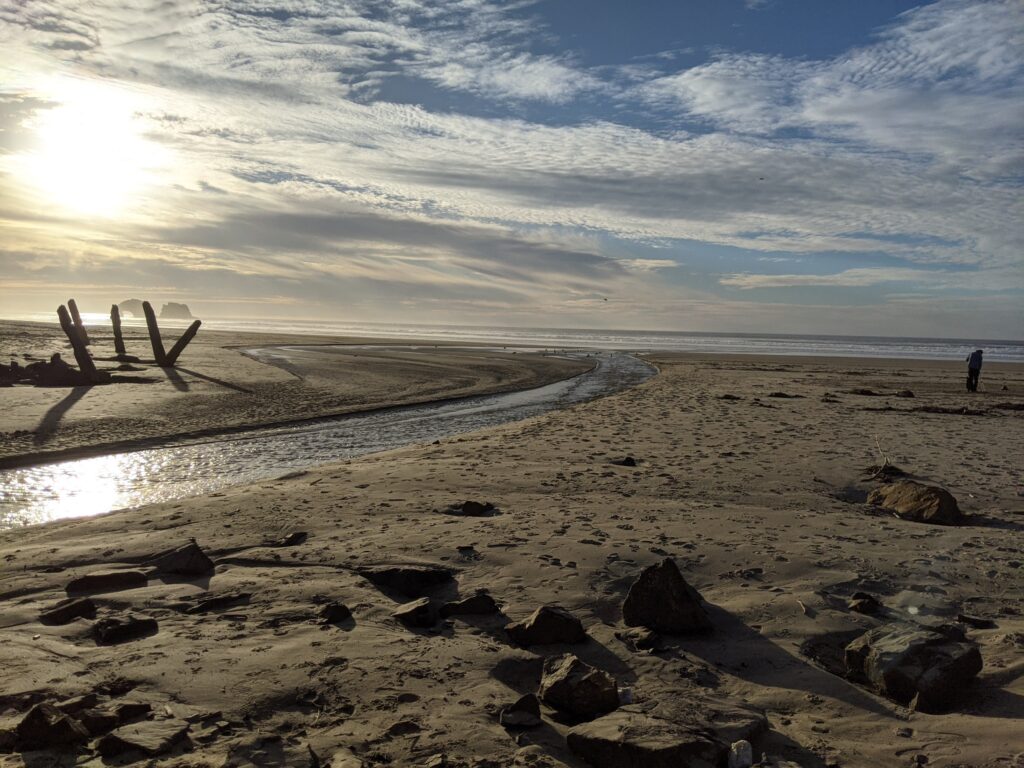 A woman sits cross-legged on sand like a yogi, black mask covering her face.
A man catches up to me as I commune with the seagulls, a blue plastic beach pail—the kind kids use to build sandcastles—dangling at his side. He smiles, no mask. Maybe he is a grandpa, and maybe he has no children. Maybe he lives here at Rockaway Beach, and maybe he's a visitor like me.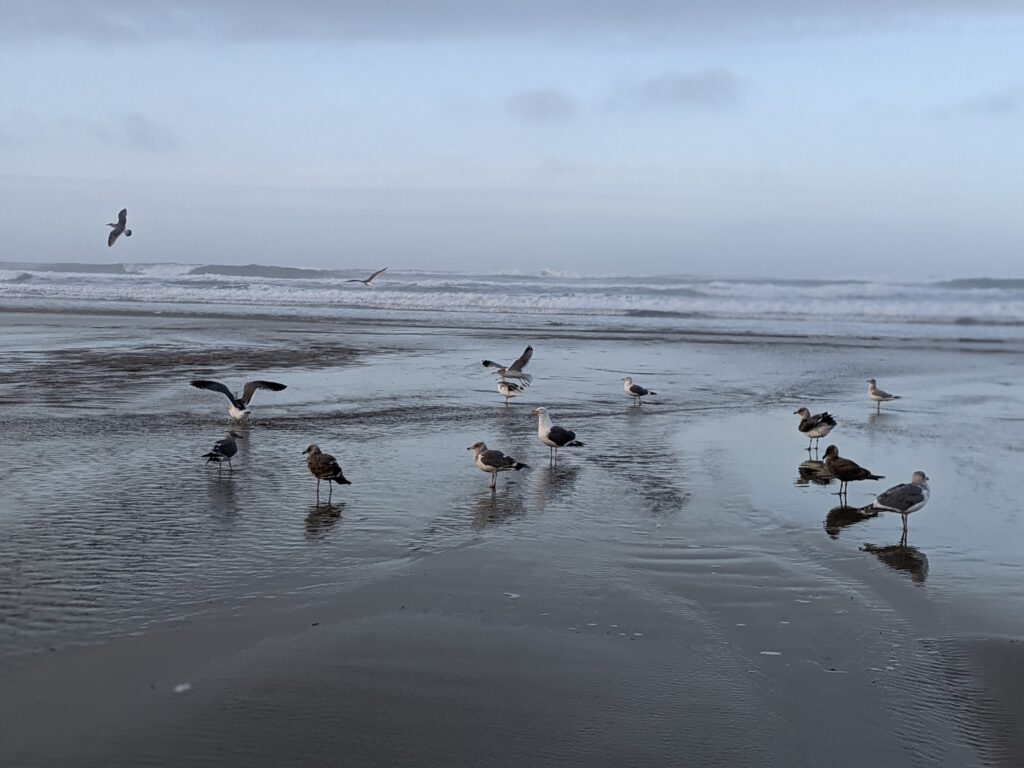 As he nears, I see tired eyes, a slump forward, baggy brown trousers. He wanders by as I study the birds' early-morning bathe. We wave.
Later on in my morning walk, we pass again, and I ask, "Did you find?"
He says his search only slightly a success.
"I found pieces," he says. "It's hard to find whole Sand Dollars."
"Yes," I say. "I don't see many anymore."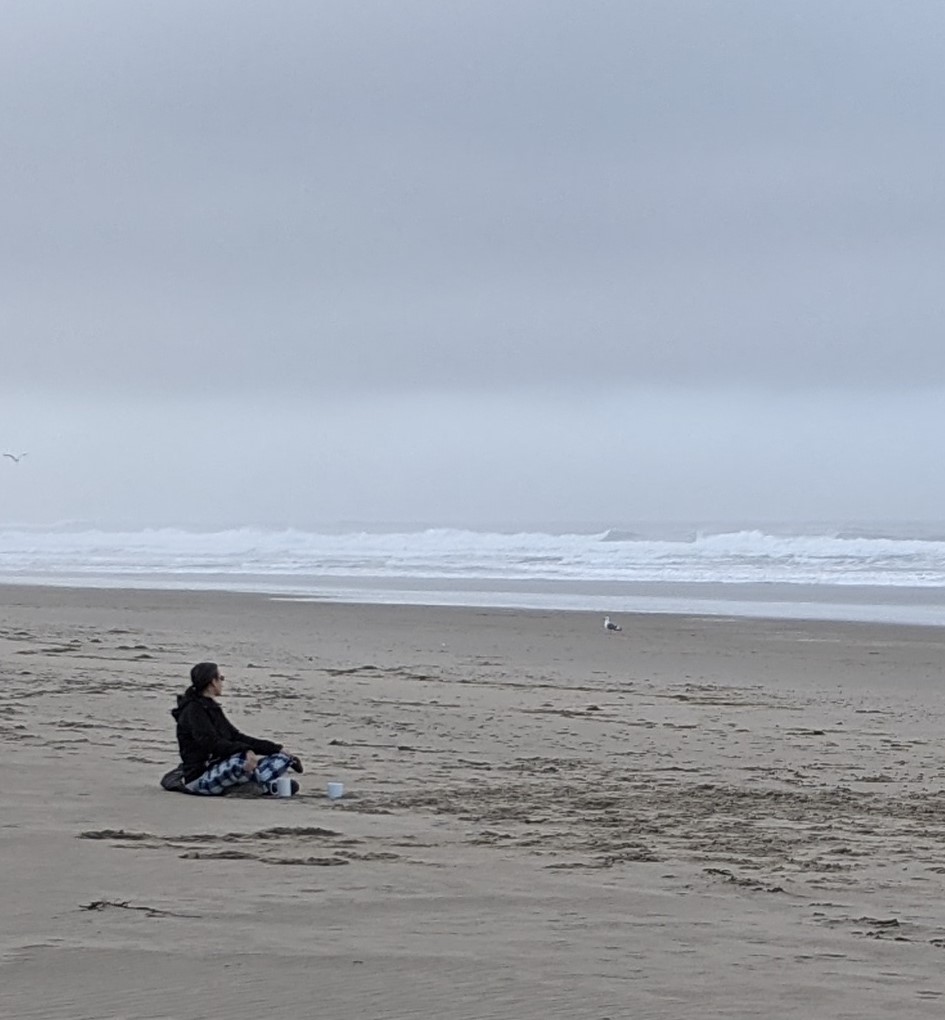 My friend had found one the first day of our visit to the coast, our shared writing retreat—though it was cracked. She held it up and smiled, then flung it back into the sea.
"It's fun to have something to watch for," I say.
"It gets me out here," he says. "Something to do."
I study the changing sky—its birds and tides, rocks and shells, driftwood—Sand Dollars—and people, too.
I think to myself—the same self that has been snapping endless photos of seagulls and sunrise—who needs "something to do" when walking the beach? All this beauty and miracle!
After my morning with seagulls, I want to know so much more: Especially, I wonder, is there a difference between a seagull's work and play?
As I continue my beach-stroll, I recall childhood visits to Ocean Shores, Seaside, and Canon Beach. Were they hard to find then? Or have we humans mined Sand Dollars into preciousness?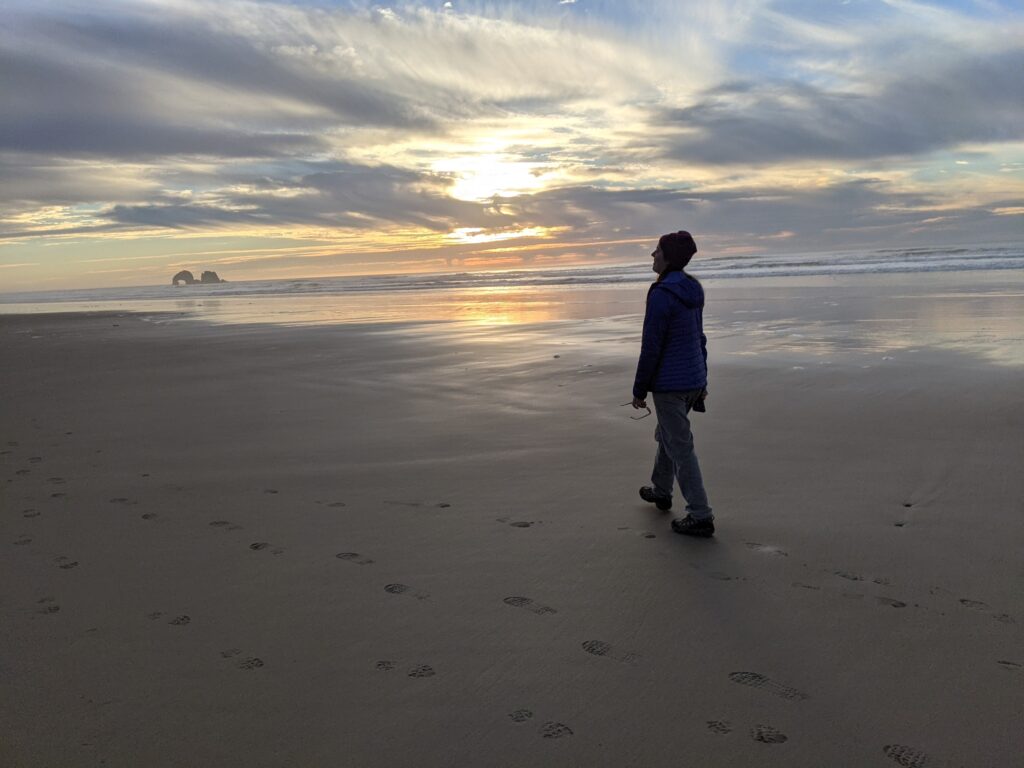 Soon I will return to my city life. I shan't judge, and when near others in stores or public places, I will protect myself and strangers, too. I shop Etsy and now own a collection of colorful masks.
And I am sad, too.
My friend will visit and share writing, and we will wear our masks in my house though we'll sit far apart—maybe with windows open. It's good to be clear.
I love to share time together, and yet I feel hesitancy now: I do not want us to fear each other.
We don't know if life will ever return to no-fear-of-virus. Maybe—and how will we live and love then and now?
December 7, 2020