"The more intimate you are with yourself,
the more intimate you can be with other people."
Diane Hamilton, author of Everything is Workable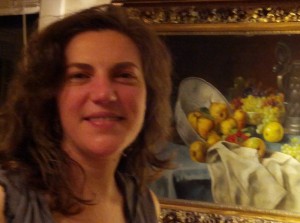 Soon after we moved to Portland last summer, our neighbors mentioned Pippa Arend, Development Director of p:ear (project education, art, recreation). They had attended a dinner-party at her Northwest-home–a fund-raiser for this non-profit that "creatively mentors homeless youth".
"You should check it out," Cam said. "They're doing good work."
Pippa, according to my neighbor, had turned personal loss into gain, had taken both her time and resources–not to mention her own "feral" youth (she would later tell me) and co-created a program serving homeless youth who struggle to find their fit–and to build hope for their future.
When in her late-20s, Pippa was thriving as artist and entrepreneur. After college in New England and a few love-sick years in Poland, she had worked with welding-artist Eric Peterson, owner of Unique Forms. By 28, she owned Tornado Creations, designing and selling high-end custom furniture.
"Life was fun but a little directionless. On the surface, it all seemed good, but my life lacked community and accountability."
That's when she met Joy "who, fortunately, saw something in me and asked if I'd volunteer teaching art to kids at The Greenhouse School where she worked." Backed by The Salvation Army, Pippa loved this new work. But, after only six months, funding slipped away, and the school closed.
By then Pippa, Joy and another woman, Beth, knew this place served an important role. The three women began brainstorming–the birthing of p:ear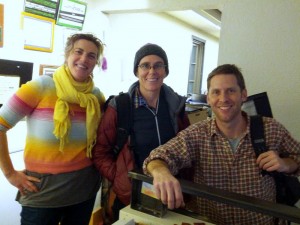 They aimed to create:
a place for homeless youth to grow hope;
a place where homeless youth could belong; and
a non-profit that wouldn't simply disappear when funding fell away.
They had seen how important The Greenhouse School was as a community: Kids would keep showing up even after they'd earned a GED, and some, unlikely to ever earn a GED, came day-after-day anyway.
"Joy had the vision while Beth and I had seemingly endless energy," says Pippa.
Some people think homeless youth are runaways, but few are, she says from experience. Most youth who show up at p:ear are failures of the Foster Care system–and many have aged-out.
P:ear is a place where caring adults connect with young people who may not have many healthy role models.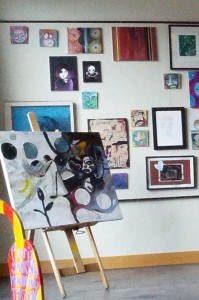 "Building healthy relationships is the focus. Education, art & recreation are all tricks to make connection and build relationships."
"Only through relationships do we get to know ourselves. Through relationships we find value," says Pippa.
"We're all so thrilled to be broadening the network of support for the program, increasing staff, welcoming new board- and community members into ever-expanding roles."
"Just as the kids are learning trust, so am I," Pippa says.  After many years of 80-hour work-weeks, the founders now invite others to imagine what happens next.
Recently she took time away to attend a conference in Boulder.  It featured Ken Wilber and Diane Hamilton.
"I've long pursued extracurricular activities that supplement both my own personal growth as well as p:ear's.  They are sometimes intertwined."
"Diane Hamilton* is great. She's all about 'know your own shadow, know your shit, and the more intimate you are with yourself the more intimate you can be with other people."
At home, Pippa paints and creates paper-art. She also practices yoga, walks and enjoys time with friends.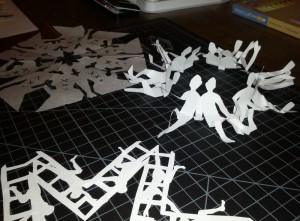 No need to be an artist, teacher or snow-boarder to join p:ear: Any reasonably "normal" and interested adult is welcome to be a mentor.
"It's amazing to see the gravitational pull of the program, so many people becoming involved, from youth to teachers to corporate donors to people like you!" Pippa tells me.
For more details about the great work happening here, check out some links below. If you live in Portland, stop by on a First Thursday, and see the exhibition and meet some artists. You might just get hooked.
* Diane Hamilton will be in Portland on February 20, 7:30 @ Powell's on Hawthorne–reading from Everything is Workable.
Recommended Links:
p:ear Website: http://pearmentor.org/
Pippa Arend, interview with Ken Ackerman.
"p:ear marks 11 years as the community their homeless youth never had," by Sarah Hottman in  The Oregonian.
Oregonian produced video on 11th Anniversary of p:ear, Pippa talking about the program and mission.
Short video showing p:ear on location–as Pippa talks about the program in some detail.