"The more intimate you are with yourself,
the more intimate you can be with other people."
Diane Hamilton, author of Everything is Workable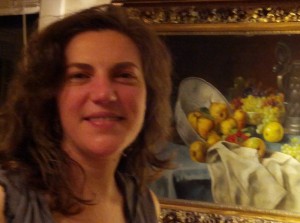 Soon after we moved to Portland last summer, our neighbors mentioned Pippa Arend, Development Director of p:ear (project education, art, recreation). They had attended a dinner-party at her Northwest-home–a fund-raiser for this non-profit that "creatively mentors homeless youth".
"You should check it out," Cam said. "They're doing good work."
Pippa, according to my neighbor, had turned personal loss into gain, had taken both her time and resources–not to mention her own "feral" youth (she would later tell me) and co-created a program serving homeless youth who struggle to find their fit–and to build hope for their future.
When in her late-20s, Pippa was thriving as artist and entrepreneur. After college in New England and a few love-sick years in Poland, she had worked with welding-artist Eric Peterson, owner of Unique Forms. By 28, she owned Tornado Creations, designing and selling high-end custom furniture.
"Life was fun but a little directionless. On the surface, it all seemed good, but my life lacked community and accountability."
That's when she met Joy "who, fortunately, saw something in me and asked if I'd volunteer teaching art to kids at The Greenhouse School where she worked." Backed by The Salvation Army, Pippa loved this new work. But, after only six months, funding slipped away, and the school closed.
Continue reading "Pippa Arend: Building Hope Through Relationships"