"We must learn to see the world anew."
Albert Einstein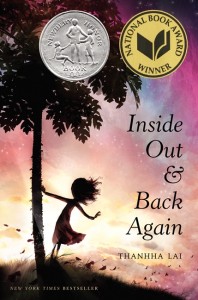 Lately, I read plenty of kid-lit, especially books for the "middle grade" readers. So many writers impress me with their poetic way of telling a good story, and not long ago I walked through Powell's on Hawthorne as a writer-friend pointed to books she loves. She reached up and grabbed Inside Out and Back Again by Thanhha Lai, and I was sold.
"A good immigrant story always gets me," she said.
This story will bring any reader closer to understanding the pain of dislocation that many refugees suffer, and it's the sort of read that changes you a bit–leads you into a world you didn't know you didn't know (the best kind of book!).
Awarded the 2011 National Book Award for Young People's Literature and one of the two Newbery Honors that year, Inside Out & Back Again is based in the author's personal experience.
Hà, only 10, hasn't seen her father in nine years, and now she's forced to leave Saigon because of some war she doesn't understand. Her family flees the comfort of friends and fresh papaya to meet  glaring eyes and lonely lunches in Alabama.
[pullquote]No one would believe me but at times I would choose wartime in Saigon over peacetime in Alabama.[/pullquote]
Yet during this first year of upheaval, Hà grows stronger. With the help of her older brother she learns to control her temper and to defend herself. Some kids at school ruthlessly chide her, and even her teacher lacks the  empathy we'd hope to find in a classroom, but the "cowboy"–the family's sponsor–helps.  Hà's mom remains a kind and gentle pillar of strength as well.
While full of both grief and healing, the novel is unexpectedly funny.
Inside Out & Back Again is  an ideal read-aloud.  For middle-grade or even high-school students, it is an ideal choice for teachers trying to blend the studies of Language Arts and Social Studies or parents who want to help their kids better understand people from around the world while also growing to love a good story.
Lai's novel fits with other superb literature for young readers by writers like Karen Hesse–also a  master of telling historic stories in verse. Hesse won the Newbury for Out of the Dust and other books such as Rifka and Witness. She was recipient of MacArthur Fellow in 2002.
Refugees are relocated to the USA and elsewhere every day, and here's a story that can help young (and old!) readers to pause and consider what it's like to lose a country. A book like Lai's helps a reader to understand better the struggles and to realize that many newcomers to the USA or other host-countries would much rather have been able to remain where they began.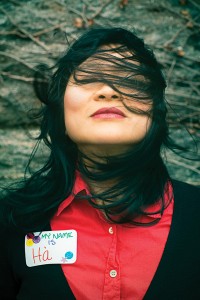 Circumstances made it so they had to leave, and many miss family and friends–not to mention language, culture and livelihood.
Her novel connects me back to some refugee-families I've grown to know. They arrived to Portland about a year and a half ago. Each step of the way is a mini-mountain to climb. From their lack of education in their own country to their struggle to learn English now and help their children to get a good start, life isn't easy. I had thought myself a sensitive person, some one aware in the world, but I never knew their world. I have been introduced to a new way of seeing as I watch their lives–and Lai's novel gives us a glimpse of her experience must have been like.
This first novel demonstrates her ability to not only tell a good story but also to write gorgeous lines of free verse.
Even if you're not a likely reader of poetry, don't let it scare you. She connects one moment to the next with grace and ease.
At the end of the paperback edition,  Lai provides dynamite "Tips for Writing Poetry". Here are the three basics in brief:
Use as few words as possible: Cut out any words that don't change the meaning. "You want the syrup without the sap," she says.
Conjure up fresh, concise images: Surprise your reader whenever possible. "Instead of writing 'He killed the chicken,' write 'A red line appeared around the hen's neck'."
Say it without actually saying it:  Avoid stating the emotion being felt. Instead of "she's happy/sad" find an image or detail. "She's sad he cut down her papaya tree," can become:
"Black seeds spill
like clusters of eyes
wet and crying."
from Inside Out & Back Again
 Please leave a comment, and let us know what great books you've read lately.
 Recommended Links:
"Multicultural Children's Book Day: Titles worth checking out" by Amy Wang, Oregonlive.com: January 27, 2014.
Education Matters. A Mashup Covering Parenting, Children's Literature and Education, a blog by Mia Wenjen.  http://www.pragmaticmom.com/
Thanhha Lai reads from Inside Out & Back Again at the 2011 National Book Awards.
Video Book Review of Inside Out & Back Again – Thanhha Lai. April 25, 2013.
Book Trailer of Inside Out & Back Again.