"The moment you doubt whether you can fly,
you cease for ever to be able to do it."
― J.M. Barrie, Peter Pan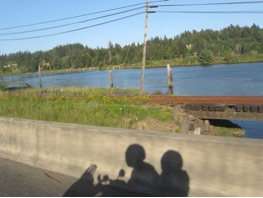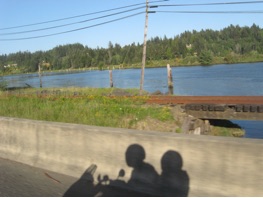 This week I've invited writer and artist Majida Nelson to tell us about something that has inspired her life. You'll love her story–one that begins on her 58th birthday–in the 99 degree "bake your skin off HOT" desert.
Besides numerous illustrations and art projects, Majida K. Nelson, writing as M.K. Nelson, published her first middle grade novel, THE RED ROYAL SECRET in November of 2012 (Puddletown Publishing Group). The adventures of camera-mad Lucky Lukenyenko, his best friend Ken Wong and tag along little sister Mei Ling unfold in contemporary Portland, Oregon but have roots in history. It's a fun read–highly recommend!
A native Portlander, Majida and her husband, Mark, recently moved from the Hawthorne district all the way across town to Humbolt–our neighborhood in northeast. Majida is an avid gardener in the process of leading her neighborhood in the planting of more native habitat.
Thanks, Majida, for sharing your creative spirit and being the first guest-writer for L.I.T.!
Ride on! Write On! (or is it Right on!) and Boogie-woogie. . . I wonder if you have energy left to dance along the way. Maybe it is internal!
Riding the Motorcycle Pillion and how it changed my life for good
by MK Nelson
Pillion Post     May 2009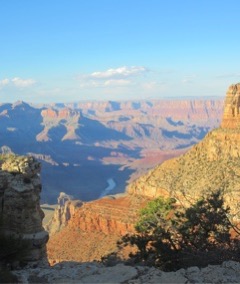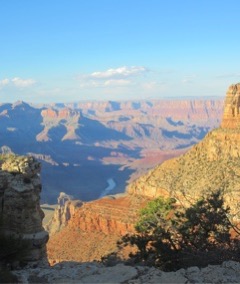 Wait a minute…it's my birthday. 58 (but who's counting?) and how am I celebrating? Sweating in 99 degree heat in California City (near Mohave–as in desert) "assisting" with a flat tire change. Mostly I'm keeping "the mechanic" here above watered inside and out.
We were cruising along in the 99 + degrees doing pretty well for maritime types. We hoped to get into the Desert Tortoise Reserve before noon. In the shade of a gas station we stopped to drink water and to get our bearings when I noticed a Harley guy coming across the lot. "Are you looking for a tire repair?"
Bewildered, we looked down at our rear tire. The bike had picked up a nasty shard of metal outside town and pierced our new tire.
Bikers look out for each other and thank our lucky stars for that. It was hot. We had a flat. The town had no motel. We needed lunch. Did I mention it was bake your skin off HOT?
The friendly folks of California City sent us over to Friend's Tires. We dodged a new set flying down from the storage loft of the garage as grandma threw them to her son, bouncing across the floor. But they got right on our repair. They patched our tire-twice!!!! For $5. (Mark added on a big tip which made the guy's day I think).
That's how it is. Just one day of many, traveling somewhere we'd picked on the map, meeting people we will never forget, receiving unexpected kindness and learning respect for people who live in the middle of nowhere special.
Riding pillion on a motorcycle for many thousands of miles in scorching heat, wind, snow, rain, ice, freezing fog, thunder and lightning was not on my to-do list.
In the beginning I wasn't too sure about my husband's wild idea of riding a motorcycle together. I struggled with the conventions. I am not Harley rider material (loud things damage my hearing, I avoid them) and I am way past prime Ducatti babe. Then there was the struggle to find the right size motorcycle safety gear. I felt foolish and kind of dopey.
I still feel dopey sometimes, but I don't let it get in the way. After all, I am meeting people, experiencing the world and weather, smelling, tasting, feeling the world as it is from the Mohave Desert to the Tuscan hills, from the Badlands of North Dakota to the tip of Vancouver Island. It has all just unfolded naturally.
Pillion Post May 2009
We are tired, but doing well and taking care. One day of long riding isn't so bad, but it's the day after day that adds up in weariness. Yet, how else could we smell the bougainvillea and taste the salt spray, cover ourselves with fog in the mountains and sweat in the valley?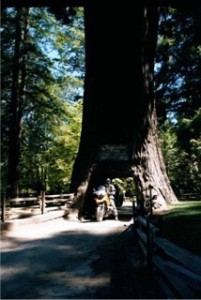 No other kind of vacation or retreat has ever cleaned my mind quite so quickly. To live to ride another day takes complete attention, commitment and patience. The inessential is quickly discarded. Especially when the road signs are in Italian and the speed is 90 mph minimum.
No other travel has connected me with people so quickly. Everyone has a story about motorcycles; the one their grandfather rode, the one they rode as a youth. Strangers in every town and in languages I cannot speak want to know 'where are you going, how long have you been traveling, is this a good bike?' We swap tales about future dreams. We hear we are crazy.
Everyone with a little wildness in their hearts just nods.
Pillion Post May 2009
Joy of joys. This thirty two miles really should be a motorcycle only road, and today it pretty much was so. Long winding stretches through the trees in the sun and only one car ahead, who very kindly pulled over and let us ride by.
Yes, it is so much more work-but I love knowing every dip, bushy corner, drop and rise in the temperature. The wind on the bridge brings an aroma of watery moss and at last the sentinel redwoods rise up before us.
Hwy 1 seems to curve on forever but the road inland finally turned away from the ocean into Sonoma county's rolling hills and cows. At last! The long push up over the mountains of Mount Tamalpais down into the eucalyptus scented Mill Valley.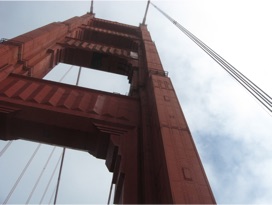 San Francisco was in the distance, fog rolling all over the city. I can feel it on my face even now.
Worn out and whupped. A wonderful sight.
But the great pillion secret is about the bond you forge from riding together hour after hour, dodging the tunnel visioned drivers, scanning for deer, finding the right road and keeping each other safe and alive.
The more we ride, the better partners we are. For a married couple this is a make or break situation and often that make or break is in the middle of nowhere special when you are tired or hungry.
There is no bus home. You work it through and get back on the bike with your sore butt, tired legs and hunger because you have a journey to make. Once again you have to leave any unnecessary baggage, emotional, material and mental, behind. You are committed.
And only the two of you will ever share the something glorious right around the corner.
You are changed for good.
Links You Might Like:
MK Nelson's book, THE RED ROYAL SECRET