"The mind is not a vessel that needs filling, but wood that needs igniting."
Plutarch (from Ian Kidd's translation of Essays)
A couple of Saturdays ago I spent three hours potting tomato starts in the greenhouse at the Oregon Food Bank's Learning Garden. That's when David, one of the volunteers, talked about a Modern Poetry class he'd taken through Coursera. Everyone else potting tomatoes that morning seemed to know about this online platform where anyone can "Take the world's best courses online for free!" — says their motto.
Coursera–not the first in the MOOC (Massive Online Open Courses) movement–started in 2012 with Stanford University, Princeton, the University of Michigan, and the University of Pennsylvania as partners. Today Coursera partners with 108 institutions in 641 countries–and has 7.1 million users worldwide (Wikipedia).
A couple of professors from Stanford University, Daphne Koller  and Andrew Ng, started Coursera: They hoped to offer high-quality learning communities where students could pursue life-long learning from top-notch instructors.
After my morning in the OFB greenhouse, I decided to catch up with the world and see what I might like to learn. Though I wasn't looking to start immediately, I found a course I couldn't resist: "Understanding the Brain: The Neurology of Everyday Life."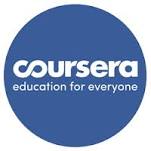 Forever I've wanted to learn more about how the brain works.
Recent discoveries of brain plasticity fascinate me, and I've been intrigued by the work of Jon Kabit-Zinn and Rick Hanson, and have wanted to learn more about pain and the nervous system. Since I survived a brain tumor as a kid, I've always wondered what goes wrong–and how the brain recovers.
I decided to jump in.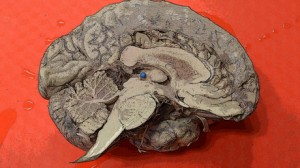 Before the course began on April 28, Dr. Mason and her two T.A.s asked us to respond to a questionnaire. They wanted to know how serious we were about learning this material. Questions like: What are your goals for the course? What do you hope to learn? Why have you chosen this course? Multiple choice answers included something like a. I'll read through the materials every week and listen to the lectures b. I will read through forums c. I will respond to forums d. I will take the quizzes e. I will earn a certificate for this course f. I will master the content.
Surprising to me, by simply answering these questions I became more serious about the course. My answer was that I want to "Master the content"–and a part of me doubted whether I could. Brain science? Yet now I was determined.
Week One arrived in my inbox. I took notes as I listened to the lecture, reviewed what I didn't understand, and I took the quiz without seriously looking back on my notes–and didn't do very well. For the re-take I studied up. I stayed up late and retook the quiz: This time I missed only a fraction of a point: 10.80 out of 11!
This morning I finished Module 1 of Week 2–all about Neurocommunication. I never imagined such a scientist as Dr. Peggy Mason taking the time to explain it all to me: I can click and stop and she'll repeat it again and again until I understand the Action Potential of a neuron cell.
40,000 students!
from all over the world!
learning from this top neurologist about how the brain works!
Though she hasn't yet mentioned it in class, Dr. Mason's current research project aims to learn more about empathy by studying rats. I'm guessing that by the end of our ten weeks we'll know more about her work.
So far I've connected with only one other student in Portland, Oregon–through the "Study Groups" forum. We'll see how it goes and whether we'll become study-buddies or if I'll network with folk in Norway or India.
I'm jazzed by the potential of all this learning: No longer must one be accepted to an ivy league or be able to afford a high-quality education to attend outstanding university courses taught by top-notch experts. Even college students attending another university can enroll here to specialize in ways not possible on their own campus.
We know lots is going wrong in the world, but Coursera (and other MOOCs) are fantastic–an amazing development in education that brings people closer while allowing us to grow and expand our worldview.
I am grateful to Dr. Mason's willingness to design and lead a course like this one. As an educator I know it takes a lot to convey information, and she inspires me. She is sharing her love of learning and her total immersion in how the brain works. She's breaking it down into baby-steps so people like me (non-scientists) can understand.
To grab our attention pronto, Dr. Mason began the course by telling us about "Locked-in Syndrome"–a near-total loss of a healthy nervous system. She told us about Jean-Dominique Bauby, former editor of ELLE Magazine: He was a healthy 43 year old father of two when he suffered a massive stroke in his brain stem. He was left totally paralyzed except for the ability to blink his left eye–mental facilities left fully intact.
The amazing thing is that by blinking out the letters, Bauby "wrote" his memoir, The Diving Bell and the Butterfly (which I haven't yet read.) Dr. Mason wanted to start us out with the mystery, sad as it can be, of how the brain functions. A successful man in his prime was suddenly left on his back, helpless, and totally aware of how "locked-in" he now was.
New worlds! Stories I've never known. Questions I didn't know to ask. Wonders–and all so temporary and just what we need when we can notice.
The Coursera "Mission":
"We envision a future where everyone has access to a world-class education. We aim to empower people with education that will improve their lives, the lives of their families, and the communities they live in."
The Oregon Food Bank's Learning Gardens grows lots of food for distribution while teaching and inspiring more people to garden. In a world where we're often clicking keys and Skyping with people who live halfway across the world, it's also good to stand together in a greenhouse or work in the same pea patch. We are sometimes quiet as we toil, and sometimes I'm grateful for these wonderful conversation that lead me to new places.
I'm forever astonished by the never knowing what I don't know.
We plant seeds and never know whether they will sprout. Sometimes seeds are planted in us, and we don't know until someday when we're surprised by what has grown.
Thanks for being here. I welcome your stories, so please write me a note if you'd like to share.
Links You Might Like:
TED Talk by Daphne Koller, co-founder of Coursera, August 1, 2012.
Coursera Homepage: "Take the World's Best Courses for Free" https://www.coursera.org/
"Instruction for Masses Knocks Down Campus Walls," by Tamar Lewin, New York Times, March 12, 2012.
Why Every University Does Not Need A MOOC  by Joshua Kim (http://www.insidehighered.com)
K-12 MOOCS & MOOCS for Educators (http://www.moocs)
TED Talk with Adam Leipzig, Feb. 1, 2013. This talk is not about MOOC but about living life. Short and fun.