"We are each other's harvest;
we are each other's business;
we are each other's magnitude and bond."
Gwendolyn Brooks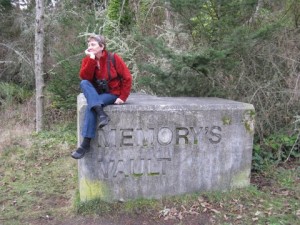 Poet Carolyn Norred notices details. Whether a journey to the Everglades, a week with her family in Hawaii to celebrate their 50th anniversary, or a birding venture in nearby Sacajawea Park, I can often visualize the places and people she's met along her wanders. She tells me about them or reads to me a poem she's written.
We first met as colleagues, teaching in the Department of Language and Literature at Lower Columbia College. Soon after, she invited me to travel to Baja and kayak around the Sea of Cortez. Once fall quarter ended we flew out of Portland.
I always thought she was crazy for extending such an invite to an almost-stranger, the new hire. We'd hardly talked up until then but would take off together–both kayak-rookies: That's how our friendship began–losing luggage, losing tickets, stranded on an island for several days because December's not the best time to kayak in the Sea of Cortez (unless you like big waves and don't mind taking it slow and waiting when the sea says so.)
Such ventures and her willingness to take a chance makes Carolyn the special person and poet she is.
Over the years Carolyn would tell stories about the trips we shared, and I would often listen as if hearing the tale for the first time. "I was there?" I would say–and I still wonder if she sometimes makes up characters and places to create a more exciting memory to share.
One trip Carolyn took with her husband and several friends has stayed in my mind since her return–back in 2006. They pulled off Park Loop Road in Arcadia National Park to take a look at the infamous Thunder Hole. Carolyn was astounded by more than the power of waves colliding with the underwater cavern. She was watching the people, too, seeing how the pieces fit, and here's the poem she wrote.
The Kodak Moment
A close-up of the bark pattern
on the alligator pine
in the Chiracauhau Hills;
the green purity of Manatee Springs
Florida turtles feeding, 15 feet down;
a moody sunset off N. Carolina's
Outer Banks.
Pictures to remember; to share
I imagine an audience:
children, grandchildren,
family, friends.
At Thunder Hole, in Acadia Nat. Park
I shoot wild white spray
slamming against gray stone.
Just shy of warm, the sun is bright.
Light dances, the way it does sometimes,
starlike on the moving surface
of the cold blue sea.
In a fierce landscape of ragged rocks,
evergreens and cloud-cluttered sky
everything moves: trees, air, sea.
Tourists flutter like seabirds
coming and going, calling
above the roar of breaking waves.
Occasional squawks erupt
when a high wave breaks
over the iron safety rail.
Sea sprayed steps lead to a high flat arm of basalt
The yellow sign at the bottom of the steps reads:
CAUTION: Slippery Rocks
A bareheaded fellow in bright blue fleece, zipped against the breeze
makes his way, deliberately
down the stone steps.
Back and forth like an ant's antennae
his white came extends ahead of him.
With each step, he stops,
seems to focus himself
and begins again:
explore, step, stand, explore, step, stand.
His free hand guides him along the iron rail,
out to the viewpoint's farthest edge.
He pauses, as all tourists do,
lifts his camera, and takes his shot.
                                  Carolyn Norred, 2006
Links You Might Like:
Published on Oct 15, 2012: In this edition of HoCoPoLitSo's The Writing life, revered American poet Gwendolyn Brooks sat down in 1986 to talk with Alan Jabbour, director of the Library of Congress' American Folklore division, and E. Ethelbert Miller, poet and director of the African American Resource Center at Howard University.
Here's where you can read Gwendolyn Brook's poem, "Paul Robson"–origin of the quote above (chosen by Carolyn Norred)