"People will forget what you do, and
people will forget what you say, but
people won't forget
how you made them feel."
Maya Angelou, 1928-2014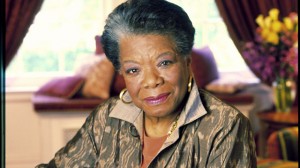 Maya Angelou, the literary icon who died this week, gives her high school teacher Bertha Flowers credit for helping her to speak again after five years of silence and for igniting her interest in literature. Angelou once stated that the period of silence actually allowed her to absorb her surroundings more intensely. She had been mute after being raped by her mother's boyfriend.
The literary master was a major figure in the Civil Rights Movement and worked directly with Dr. Martin Luther King Jr. She authored 30 books, and I Know Why the Caged Bird Sings (1969) is the first of six autobiographies.
Angelou was awarded the Presidential Medal of Arts in 2000 and the Lincoln Medal in 2008. President Obama honored her in February of 2011 with a Medal of Freedom — the highest honor a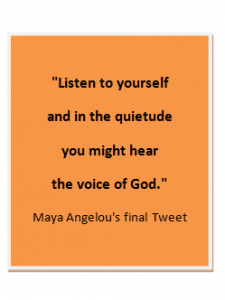 civilian can receive and a "thank you for inspiring people of the world to be more compassionate, loving, and to act from their best selves," according to a Final Tribute aired by ABC.
Maya Angelou was a poet, actress, activist and educator, and she believed that "Love is what can heal all." Born in St. Louis, Missouri, she lived for years in Harlem, Ghana, and influenced lives all over the world–including Oprah Winfrey's–who has long considered Angelou her mentor.
She was also a cook and loved to bring people together around a pot roast,  a "Sunday Dinner" which she said is "one of the most intimate ways to be together." She  loved country music, she told Robin Roberts on Good Morning America.
Maya Angelou was the second poet in U.S. history Continue reading "And Still I Rise–A Tribute to Maya Angelou"